London 2012: German dentist seeks crowning glory
By Rachael Humphreys
BBC News, Schleswig-Holstein
Last updated on .From the section World Olympic Dreams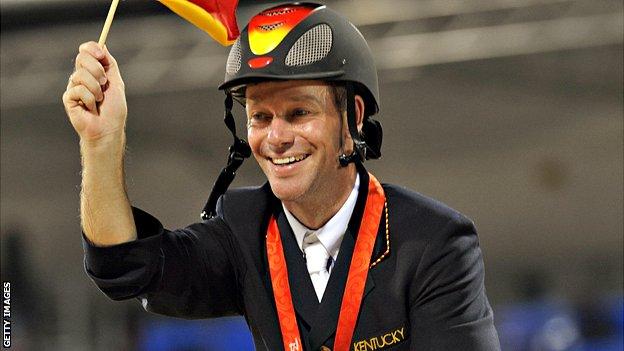 Schleswig-Holstein, the northernmost state of Germany, is horse country. It is the home of the Holsteiner breed - a German sport horse renowned for its show-jumping ability.
It is also the home of Hinrich Romeike.
Hinrich is a dentist, who works long hours at his family practice in the small town of Rendsburg. In his spare time he is a double Olympic gold-medal winning equestrian.
The Romeike practice is in a three-storey building, a very modern practice, its treatment rooms filled with the latest in dentistry technology.
Hinrich grins as he points out his favourite piece of equipment - an old-fashioned dentist's chair. He demonstrates the footrest that was used by the dentist to brace against when wrenching out teeth.
It is hard to keep up with him as he dashes between treatment rooms seeing patient after patient. A quick consultation with a colleague, a glance through a file, upstairs to oversee the technicians, back into a routine check-up. This is his daily routine from seven in the morning to seven at night - five days a week.
Around this punishing schedule, Hinrich manages to train and compete at the highest level of his sport.
At 1.30pm each day, he jumps into his car and drives home to a village just outside Rendsburg, where he lives with his wife Susanne and their three teenage children, and spends his lunch break at the stables where they keep their 12 horses.
At the end of their American-style barn, a familiar face looks out - Marius Voigt-Logistik. The tall, grey gelding quietly takes in his surroundings.
The only hints at his legacy are the five Olympic rings hanging above his stall. His presence is hard to ignore.
"He knows he's a star," says Hinrich. "We treat him like a star. At the end of the day, though, he's an animal - I wouldn't say he was a friend."
Marius obviously disagrees. He turns his head and throws Hinrich a rather disgruntled look. "Of course you're a friend," Hinrich concedes as he gives him a hug.
The pair have risen up through the ranks of international three-day eventing. Eventing is the triathlon of the horse world, comprising three phases - dressage, cross country and show jumping. It requires the utmost skill, harmony and trust between horse and rider.
The dressage phase consists of a sequence of set movements performed in an enclosed arena. Next is the cross country where horse and rider gallop around a series of large, solid natural obstacles.
The final phase is the show jumping completed back in the arena. It tests the technical jumping ability of horse and rider.
Hinrich and Marius made their international debut at the European Eventing Championships in 2003 and since then have been a constant presence in the German team.
They competed at the Athens Olympics in 2004, finishing fifth individually, won team gold at the World Equestrian Games in 2006, and came sixth at the prestigious Badminton Horse Trials in 2007.
In 2008 they achieved the ultimate sporting accolade, winning both team and individual gold at the Beijing Olympics.
Marius is magical to watch in action. He moves effortlessly across the arena as Hinrich puts him through his paces, practising a dressage test. He is the ultimate event horse.
"He's never stopped, run out or fallen at a fence," Hinrich says of the cross-country phase.
"So I'm never nervous when I'm competing," he adds. "Just curious."
Once back at the stables, Hinrich dismounts, whips off his breeches, untacks Marius, jumps back on and heads to his small lake. Marius wades into the water and Hinrich spends 15 minutes trotting and cantering him around.
There are no state-of-the-art hydrotherapy pools here. "It helps keep him really fit, I think," shouts Hinrich, as they splash around.
Hinrich first saw Marius as a four-year-old, a pure Holsteiner bred locally. As a youngster Marius was overlooked as he did not excel at show jumping.
Hinrich knew from the moment he met him that he had quality but he couldn't afford him at first. A year later he asked the breeder, Hans Werner Ritters, if he had been sold and was offered Marius on loan. Two days later he told Hans: "You won't be getting him back … ever."
Hinrich rewards Marius with his favourite treat, a banana. "He does have his annoying habits too," he says as he brushes Marius. "He hates being clean, he's always rolling around, making sure he's filthy."
"We have to keep him clean though", smiles Susanne, who runs the yard from day-to-day. "He gets recognised wherever we go. People always want to take his photo."
A quick change and Hinrich heads back to the practice for afternoon surgery. How does he balance his professional life with a life at the top of his sport?
"I only do things that are urgent or important. I would like to see my wife occasionally," he laughs. "And be there to see my three children grow up."
Once afternoon surgery is completed and the day's administration taken care of, Hinrich heads home again to spend a further two hours with the horses. Finally it is time for a family barbecue in the late, late sun of a northern European summer.
"You can't be a dentist and win the Olympics. It just doesn't happen."
He rummages around in a drawer and pulls out two gold medals, still tucked away inside a money belt. "I haven't had a chance to put them on display yet."
Hinrich knows that London 2012 might be a long shot. "I only really have one horse." Marius will be 18, which is not young for a horse competing at this level.
"I don't doubt he'll be able to do it but ... a lot can happen. If we make it, we'll have a chance like anyone else. And a chance for us - that means winning."