Pakistan's hockey team set to revive glory days
By Aleem Maqbool
BBC News, Punjab
Last updated on .From the section World Olympic Dreams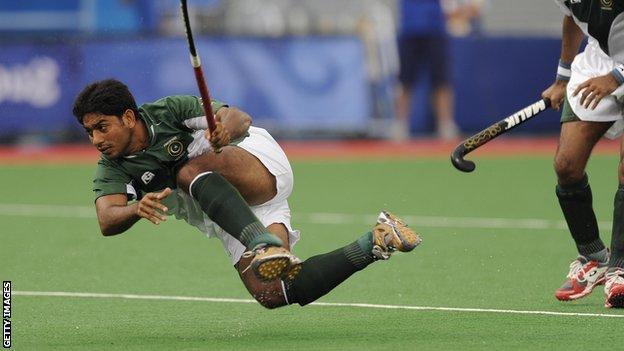 I can pinpoint the precise moment, back in 1984, when I learned that hockey mattered to Pakistanis, wherever they may be.
We were visiting close relatives in Surrey during my school holidays. I was eight years old.
One night, my sleep, and that of everyone else in the house, was dramatically shattered by the sound of my otherwise reserved, and rather dignified, Uncle Jimmy (Jamil) bursting out of his bedroom at great speed.
"They did it!" He shouted, running the full length of the corridor banging on all our bedroom doors.
"They got the gold! Pakistan won!!"
Until I was able to digest what was going on, I specifically remember being quite scared. But the sound of my uncle's unbridled happiness was exciting and I remember us all rushing out to join him.
Pakistan had just beaten West Germany with a goal in extra time in the hockey final at the Los Angeles Olympics.
Disappointingly, Uncle Jimmy remembers nothing of his run down the corridor.
What he does remember is a bygone era, through the 1960s, 70s, and into the 80s that still makes Pakistanis proud. "When it came to hockey, we were the best," he says. "We were number one."
During that time, Pakistan won three Olympic hockey gold medals and three World Cups.
Then my uncle brings up that yardstick by which Pakistanis secretly judge almost everything about their country. "We would always beat India," he says.
How things have changed. That gold in Los Angeles was not only Pakistan's last hockey triumph at the games, it was the country's last Olympic gold medal in any sporting discipline.
They did win one more hockey World Cup, in 1994, but in the most recent tournament held in the spring of 2010, Pakistan came last out of the 12 teams present.
In the type of histrionic gesture that Pakistani sports fans have become used to, it was a performance that shamed the entire team into handing their resignations.
During the tournament, they played India, and were badly beaten.
Ultimately, the resignations of the senior players were not accepted, but there is still little doubt that Pakistan hockey is in more than just in a rebuilding phase. It is all but looking to start from scratch.
At Islamabad's Jinnah Stadium, we find the under-18 hockey squad going through intense training drills in temperatures well into the 40s.
Pakistan's Olympic dreams rest heavily on the shoulders of some of this gangly looking bunch.
"We've heard of times when Pakistan was at the top. We don't remember them, but we've seen the videos," says Syed Kashif Shah, the team captain. "We're determined to take the country back there."
Overseeing the training is the coach and former hockey Olympian, Khwaja Junaid.
He has seen the decline of Pakistani hockey first hand, but is excited about the future.
"There were so many factors that led to Pakistan going from a dominant force in world hockey, to where we are now," he says.
"Undoubtedly the increased use of astroturf pitches had an impact. It's a surface that's expensive to lay and maintain in a relatively poor country like Pakistan," he says.
More recently, because of security reasons, foreign teams are no longer touring the country.
But Mr Junaid admits most of the other problems were of Pakistan's own making.
"We thought we were invincible, that we didn't need to change anything or improve grassroots hockey. We're paying the price now."
But he smiles as he points out a talented youngster weaving past defenders in a practice match.
Rizwan is just 16 but has already been picked for the senior squad.
He is from a small town in interior Punjab called Gojra. Many others at the training camp are from poor rural regions of the country.
"They're just raw talent," says their coach, Khwaja Junaid. "A lot of them have never used a proper gym before. Some rarely get to play on astroturf."
In fact, there is a lot more Mr Junaid needs to teach them if they are to become international athletes.
"They're not used to city life," he says.
"As well as training them on the field, we train them at the breakfast table; how to hold a knife and fork, and how to eat with [them], we give them communication skills, and tell them how to wear ties and formal shoes."
But are they going to be turn things around before 2012?
Change could not come soon enough for millions of Pakistani sports fans, including my Uncle Jimmy.
"We need something to make us proud of Pakistan again," he says. "Otherwise it's all bad news."
Then he paused. "It's time we started thrashing India again."