London 2012: Borlées aim to make 2012 a family outing
By Heidi Van de Velde
BBC News, Brussels
Last updated on .From the section World Olympic Dreams
Coach Jacques Borlée teases his son Jonathan about the odds of him staying ahead of Usain Bolt. Realistic and relaxed, Jonathan Borlée's response mirrors his attitude to life and to his career as one of Belgium's fastest sprinters.
Just 'one' of Belgium's fastest runners because he has an identical twin, Kevin, and an older sister, Olivia, whose sporting ambitions match his own.
In the hotel breakfast room a few hours earlier, Jonathan moves around in what seemed almost like slow motion. It is only later, on the training track, that he illustrates what kind of an explosion that pent-up energy can release.
One second he is strutting around the track with his mp3-player earbuds in, the next he suddenly develops amazing power and speed over a stretch the length of a football field.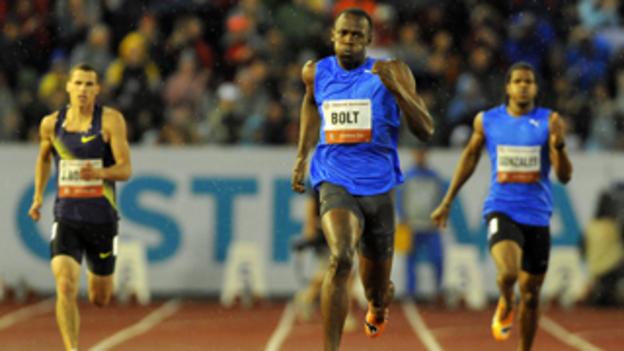 'Man is movement,' is Jacques' slogan and his son seems to have turned it into both an art form and a way of life.
Jonathan is racing Usain Bolt, among others, in a non-traditional 300m race - only his first this year. He comes third after a slow start but easily breaks the Belgian record. He is happy with the result but also keen to scan our footage to find any way to improve his technique.
Soon after we met, Jonathan asks about the internet speed in my hotel room. His connection is not fast enough to view the live stream of his twin Kevin competing in the USA at midnight and he wonders whether he can watch it in my room.
It is telling that he seems more concerned about his brother's race than about his own against Usain Bolt. But it is a measure of the bond between them and the rest of this athletic family.
The usually shy young man becomes passionate during the interview as he talks about how he loves every moment of his training sessions with his brother and elder sister under their father's coaching.
Jonathan explains how, despite both his parents being former sprinters, it was his sister Olivia who inspired him to take up track after he saw her perform and how Kevin pushes him to improve his performance as they are equally strong and fast.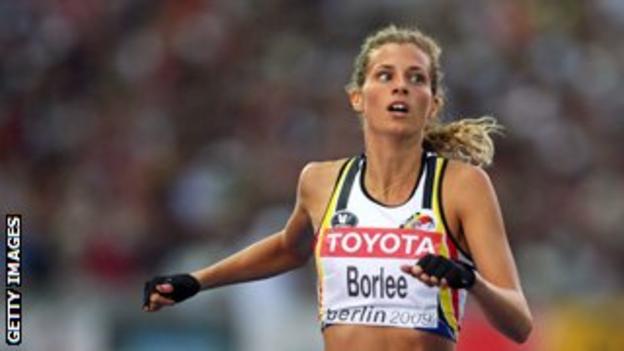 Olivia was part of Belgium's silver medal-winning 4x100m relay team at the Beijing Olympics in 2008.
When I ask Olivia and Kevin a few weeks later who inspires them to keep pushing their limits day after day, they immediately credit their siblings too. It is clear that the family bond is a major element in their success.
At a press briefing to launch the Borlée clothing line manufactured by Belgian fashion company JBC, their father jokingly refers to his children as the "Jacques Borlée Corporation".
The line sports slogans such as "no limits," "pure winner," "0% epo, 100% eco" and "all good things come in three".
The CEO will confess that they have chosen Olivia, Jonathan and Kevin to represent them because they are a family, as well as currently Belgium's best athletes.
That same day, Olivia makes an appearance at Spirit-Run, a sports event where she personally encourages women and girls to take up running with a professional warm-up session.
These three young athletes are Belgium's hope for the London Olympics. Among the assembled press corps no one disagrees that they are the perfect ambassadors for the country.