London 2012: Source of the lightning Bolt
By Leon Mann
BBC News, Jamaica
Last updated on .From the section World Olympic Dreams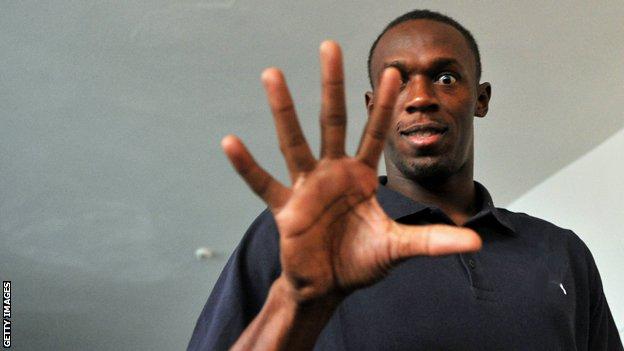 What more is there to say about Usain Bolt?
Since the Jamaican blew the world's mind at the Beijing Olympics in 2008, the Bolt story of how a country boy turned into an international superstar has become well known.
But what do we actually know about Usain?
A while ago, I wrote an article headlined What makes Usain Bolt tick? Since then I've had the great pleasure of making a documentary on the world's fastest man and got to know him, the Bolt family and his friends along the way.
In that time we've shared the odd joke, he's shown me his dance moves and I've seen athletics legend Michael Johnson break down what makes Usain so fast.
But what really stands out above everything else I've learned is the way he has handled his new demanding lifestyle with a maturity beyond his years.
While his public image is one of a young man constantly fooling around and having fun, he has made some wise decisions since the Beijing Olympics.
For me, the most interesting is that he has resisted the temptation to bring in an international marketing company and management firm to handle his business. Instead he has kept the same team of friends and family in positions of power who stuck by him when he was struggling with injuries and form in his early days as a professional.
Familiarity is important to Usain - they offer that and also a level of trust other sportspeople have often struggled to find.
Usain's two main advisors are his best friend from school, Nugent "NJ" Walker, a qualified teacher, and his brother, Sadiki Bolt, a talented cricketer. They rarely leave his side when he's away from the track and as Sadiki tells me, they "look out for him".
Having been to the tiny village of Sherwood Content and surrounding rural area in the Trelawney parish that the trio come from, it's an empowering sight to see three young men enjoying the limelight, but never relinquishing their control.
If Usain doesn't want to do something, he doesn't do it. It's clear that his two closest aides help him stand strong.
His manager and mentor, Norman Peart, and competition agent, Ricky Simms, form the nucleus of Team Bolt's commercial arm while coach Glenn Mills ensures Usain does what he needs to on race day.
All three have been with the sprinting sensation through thick and thin. The only new edition to the team since the Olympics is Carole Beckford, a respected publicist on the island, who manages the constant flow of media requests for the triple world record holder.
Ultimately, I believe the bedrock of Usain's approach comes from the values he developed growing up in Sherwood Content.
Tourism adverts
Having been to the village on three occasions and spent time talking to the local community, they tell me that Usain's success has improved their lives. The potholes in the roads now get fixed, running water is no longer a luxury and the village even features in Jamaican tourist board adverts shown across America.
However, despite all of this there are no signs that Usain is from the village. They aren't "showy" people, I'm told by one resident. Trying to cash in on his success hadn't even entered their thoughts. They are proud of him but he is still the same lanky teenager from William Knibb School to them.
His family have had a huge positive impact on his life and despite the changes in their world, they haven't changed at all. Mum and Dad have kept their son grounded.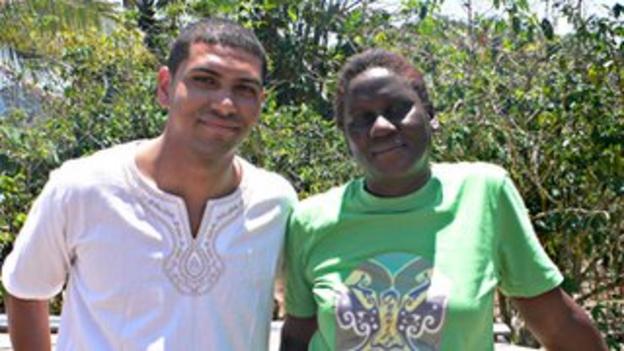 When I last saw Usain's mother Jennifer, she greeted me with the kind of embrace I'd normally only receive from my own family. As a journalist, I can assure you, it is very rare to get such a welcome! But Mrs Bolt is by no means naïve.
When we first met last year, I was told in a polite but firm manner to remain outside the house. But having got to know her and Usain's father, Wellesley, at the World Championships in Berlin, I'm now waved in.
She asks about my life in London, then lists the same worries most mothers have about their sons - women, him living away from home, driving too fast and most strikingly - her wish for him to return to education.
A short stroll from the family house - which has doubled in size since my first trip - Wellesley Bolt is still busy selling fish and vegetables at his grocery shop. Usain has told him he can quit his job, but Wellesley's having none of it.
The shop is far more than a source of income. It is a big part of the community, a place where he spends hours sat outside on his stool chatting through the day's drama with his friends.
Worldwide sponsorship deals
When I spoke to Mr Bolt last year, I commented on the President Obama baseball cap he proudly donned. "You know Obama probably wants to meet your son now," I said. "No way!", he replied, clearly baffled by the suggestion.
But having hosted the world's media at his shop on a daily basis since that day I wonder what his response would be now.
While the goofing after, and before, races may lead some to believe otherwise, I believe Usain fully understands his potential both on and off the track. But I don't think he spends time thinking about anything beyond his sprinting during the season.
Instead, he places his trust in the team around him to explore and maximise his commercial opportunities. And they've been doing a good job - 2010 has already seen him sign a book deal, endorse a Swiss watchmaker and see the major sportswear manufacturers scrambling for his signature.
They are no pushovers either. Having decided "tax doesn't have to be taxing" his team concluded that the London Grand Prix would have to be passed on if the tax laws could not be relaxed for the sport's main attraction.
Team Bolt has also gone some way to increasing the international recognition and profile of his trademark "lightning Bolt" pose. All over Jamaica you find t-shirts with the famous pose. His sportswear manufacturer is now taking it to a global market.
By establishing that pose as a recognisable logo, he could follow retired US basketball legend, Michael Jordan, in sitting back with his feet up while the dollars roll in.
Seven years after his retirement, the NBA all-time great still picks up millions of dollars every year because of the power of the brand he developed at the height of his career.
The more successful he becomes the more it will benefit Jamaica and also Sherwood Content. Earlier this year he saved the village's small medical centre with funds he generated from a charity event held in his name.
His success has also been beneficial to his training partners at the Racers Club in Jamaica's capital, Kingston. A brand new track has been laid this year - donated by a German supplier - and the best outdoor facility on the island is helping to raise standards.
The form of 400 metre runner, Jermaine Gonzales, Usain's closest friend at the club, and fellow sprinter, Yohan Blake, illustrate this.
As the triple world record holder's profile continues to transcend athletics, and sport to some extent, how team Bolt continue to maximise the commercial opportunities will be interesting. But I believe this is exactly why Usain has made the decision to keep those with a clear understanding of what is really important around him.
So, the next time you see Usain dancing after yet another incredible performance, or cracking jokes on television, remember there is more to Bolt than meets the eye.
But don't expect to see him change into a super-serious character anytime soon.
He is having the time of his life - with the help of his lifelong friends and family from Sherwood Content - and it's benefitting those closest to him too.
A win, win situation: something Usain has become more than used to.