London 2012: Who are Ireland's Olympic hopes?
By Natalie Miller and Ollie Williams
BBC Sport
Last updated on .From the section Olympics
There will be plenty of celebrations across the Republic of Ireland over the St Patrick's Day weekend, but how about at the London Olympics?
Sixteen years have passed since Ireland's last summer Olympic gold medals, and those were won by swimmer Michelle Smith, who raced to three Olympic titles at Atlanta 1996 before receiving a four-year ban in 1998 for tampering with a urine sample.
The only other Irish victory in the last half-century of Olympic history was Michael Carruth's welterweight boxing gold at Barcelona 1992. How, then, is the Ireland team for London 2012 lining up? BBC Sport selects some of the stars and stories of Irish Olympic sport.
Katie Taylor
With the inclusion of women's boxing in the Olympic programme for the first time, the Irish can unleash their biggest gold medal hope: Katie Taylor.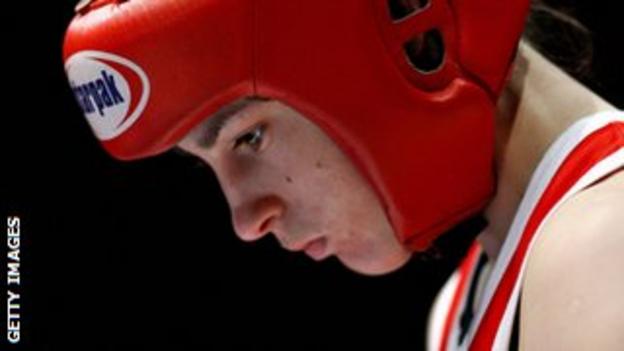 The current world champion has been boxing since the age of 12 and has an impressive track record, including five consecutive European Championship gold medals and three world titles. She will aim for a fourth in China this May, ahead of her Olympic debut.
The 25-year-old from Bray, County Wicklow, has boxing in her blood. Her father and current coach, Peter, was the 1986 Irish senior light heavyweight champion.
Not only has Katie been a powerhouse in the sport domestically, she has played her part in getting women's boxing into the Olympics for the first time. The sport's world governing body considered her their poster girl for Olympic inclusion, and Taylor boxed in showcase fights in a bid to convince officials from the International Olympic Committee.
"The Olympics is the biggest competition in the world and for every amateur boxer it's a dream to go to the Olympics. That is no different for female [boxers]," she said. Having earned the right to fight at London 2012, she might now be Ireland's best bet for the nation's first Olympic gold of the 21st Century.
Paddy Barnes
Taylor will still have to work hard to overshadow Ireland's male boxers. While the team returned from Beijing 2008 with no gold medals, all three of the medals Ireland did win - a silver and two bronze - came in men's boxing.
One of those medal winners was Paddy Barnes. The 24-year-old brought home bronze and has gone on to win gold in the Commonwealth Games and the European Championships in 2010.
After suffering a shock defeat at the World Championships last year, the Belfast-born boxer has yet to qualify for this year's Olympics.
However, after retaining his Irish light-flyweight title at the start of 2012, he looks set to come through an Olympic qualifier in Turkey in April - and a medal is in his sights.
"I believe I can win a gold medal in London. I've won the Commonwealth Games and European Championships, and would love to add the Olympic title," he said.
John Joe Nevin
Finally for the boxing ring, keep an eye on John Joe Nevin.
The 22-year-old from Cavan won a bronze medal in the World Championships in Azerbaijan last year, an accolade which also earned Nevin a qualification for this year's Olympic Games in London.
The bantamweight boxer qualified for the Beijing Olympics in 2008 and was the youngest member of the boxing squad at those Games.
Kieran Behan
A World Cup champion in the floor event, 22-year-old Kieran Behan may still find it tough to break into the medal reckoning at London 2012. But, having booked his place at London 2012, his is one of the Games' most inspirational stories.
At the age of 10, Behan was left in a wheelchair following complications removing a non-cancerous tumour on his leg. Fifteen months later, he had made a miraculous recovery and was back in the gym.
However, a freak training accident then left him with brain damage and he had to re-learn how to carry out simple movements such as moving his head. Following three years of intense rehabilitation and determination, he was back training.
Against all the odds, and having been told twice that he would never walk again, in January Behan became the second Irish gymnast in history to qualify for the Olympics.
"I was told, 'You're never going to be able to walk again let alone do gymnastics,'" he recalled. "To find out I'm going to the Olympic Games is something dreams are made of."
Jason Smyth
Hailed as the Paralympic Games' answer to Usain Bolt, Jason Smyth won both the 100m and 200m in world record times for his classification at the 2008 Beijing Games.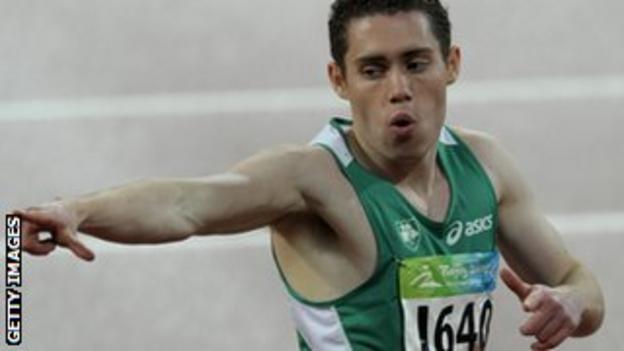 The 24-year-old from Derry is now focused on London and, like Oscar Pistorius, his ambition is to compete in both the Olympics and Paralympics.
Smyth has Stargardt's disease, which started to affect his vision at the age of nine. But the visual impairment never stopped Smyth on the track and, in 2010, he became the first Paralympic athlete ever to compete in a European Championships.
Despite injuries in recent years that caused him to miss the Commonwealth Games and the Paralympic World Championships, Smyth has remained positive, and he currently lies only 0.04 seconds outside the 'A' qualifying standard for the Olympic competition.
The County Londonderry athlete aims to win in London but also wants to inspire others. "I have a good sense of who I am and where I'm going," he said, "and a good sense of the talent that I've been given and the opportunity not only to do well, but maybe inspire others to achieve whatever it is they want to achieve."
Grainne Murphy
With the exception of Michelle Smith's medals, now considered tarnished by many, Ireland has not been known for a wealth of swimming talent. Grainne Murphy is hoping to change that.
The 18-year-old from Wexford won 1,500m freestyle silver at the 2010 European Championships, adding to a succession of junior medals.
At the end of last year she took home a bronze medal at the Dutch Open Championships in the 800m freestyle, producing a time which qualified her for the Olympic Games in London.