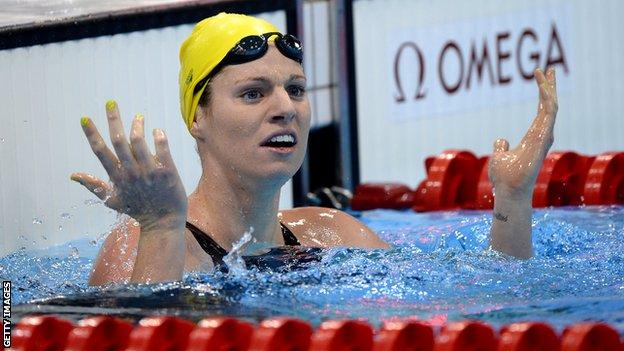 LATEST NEWS - 2012
Sat 04 Aug 12: Swimmer Emily Seebohm has won silver at the London Olympics with Australia's 4x100m medley relay team.
Mon 30 Jul 12: Emily Seebohm broke down in tears after finishing second in the 100m backstroke.
Emily was favourite to win the event after setting an Olympic record in qualification but
"I'm really happy, not that you call tell, that I got silver," Emily said.
"It is definitely a great achievement. I just wish I could have finished it off. So close, but I'm always just not quite there."
Sat 28 Jul 12: Australia's 4x100m freestyle relay team took gold at London 2012 with an Olympic record time of 3:33.15. Emily was not part of the final team but took part in qualification and therefore receives a medal.
Sun 03 Jun 12: Emily Seebohm won two golds at the Santa Clara International Grand Prix.
In the women's 100m backstroke, she touched in on exactly the minute mark before taking gold with the medley relay team.
Sat 17 Mar 12: Emily Seebohm has booked her place at London 2012.
She won both the 50m and 100m backstroke titles at the 2012 Australian Swimming Championships to claim her spot on Australia's Olympic swimming team for London 2012. Emily set a new fastest time of the year in the 100m backstroke, clocking 59.28 seconds to edge out Belinda Hocking.
"I feel on top of the world and I'm just so glad to be here right now," Emily said.
"I wanted it so bad this year and I have trained so hard for it."
Sat 11 Feb 12: Emily has cemented her place as the number one contender for the 100m backstroke Olympic title by setting the fastest time of the year.
She won the NSW Championship final in a time of 59.36 seconds and believes she can go below the 59 second mark: "I get so close to it and I really want to do it so hopefully it comes at trials because I'm waiting for it.
"It's looking good at the moment but I've just got to keep training hard and work at taper and work at my skills and hopefully that sub 59 comes."
Fri 10 Feb 12:Emily Seebohm has told the BBC she believes her battle with illness is now behind her.
Sun 29 Jan 12: Emily has won the 100 metre backstroke at the South Australian State Championships.
She finished 0.06 seconds ahead of Sophie Edington with a time of 1:00.74. Emily, who was representing Queensland, also finished second in the 100m freestyle and the 200m events in Adelaide.
LATEST NEWS - 2011
Tue 13 Dec 11: Following a year dominated by illness, Emily Seebohm snatched two titles at the Queensland Championships.
The first win came in her favoured 100m backstroke event, in which she touched the wall in 59.37 seconds. She followed that up with a winning time of two minutes, 13.37 seconds in the 200m individual medley.
"I don't know if I'm through all my illness," Emily said. "It's not throwing me out and I'll look forward to hopefully a healthy year. And if I go away and get sick, I'll just train through it. It's part of my routine now."
Sat 30 Jul 11: Emily Seebohm has had a disappointing World Championships in Shanghai.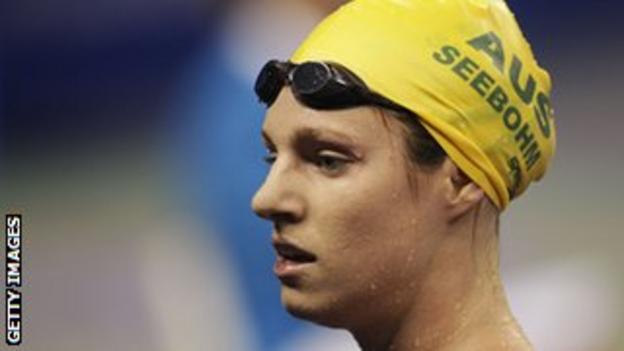 Seebohm endured a torrid few months preparing for the World Championships and saw her competition blighted by illness once again.
Emily finished fifth in the 50m backstroke, in 28.07 secs, and fourth in the 100m backstroke, in 59.21 secs, but was forced to pull out of the 4x100 medley relay after suffering a fever.
Stephanie Rice was surprised to be told she would be taking over the backstroke leg from Emily.
"The last time I did a medley relay I was like 16 and I false started doing backstroke. I don't know if anyone has false started doing backstroke before so it was pretty embarrassing," she said.
Tue 5 Apr 11:Emily Seebohm has collapsed at the Australian Swimming Championships.
Moments after winning silver in the 100m backstroke, Emily fell to the ground and had to be revived with oxygen. She has pulled out of the rest of the meeting and may now only compete in one event at the World Swimming Championships in Shanghai in July.
Thu 3 Mar 11:Emily Seebohm has been struck down with swine flu.
She was hospitalised this week after learning she had contracted the H1N1 (swine flu) strain.
"The most annoying part about it was being in isolation - by myself - it was so boring not having anyone to talk to and even the nurses had to wear a mask and coat and gloves to come and see me," she said.
LATEST NEWS - 2010
Fri 24 Dec 10: Emily has announced that in 2011 she will start competing in the 100m butterfly and, controversially, stop racing in the 200m individual medley.
Wed 15 Dec 10: After a short break following the Commonwealth Games, Emily Seebohm secured six titles at the Queensland Championships.
Sat 9 Oct 10: Emily won her third gold medal of the Commonwealth Games when Australia won the 4x100 medley relay.
Emily has won eight medals in total: three golds, two silvers and three bronzes.
"I hope they let me on the plane with 40 kilos. I am going home with a stack of medals," Emily joked.
Fri 8 Oct 10: It's gold number two as Emily and the Australian 4x100m freestyle relay team win gold.
Emily also won two bronzes, one in the 50m backstroke and the other in the 200m backstroke. Incredibly, she has not appeared in a final at the Commonwealth Games without winning a medal.
Thu 7 Oct 10: Emily has qualified for the final of the 50m backstroke by setting a new Commonwealth Games record of 28.03. She will go up against England's Gemma Spofforth in Friday's final.
Wed 6 Oct 10: Emily Seebohm has won her first gold of the Commonwealths plus a silver on day three of the Games.
She broke her own Games record to win the 100m backstroke in 59.79, overhauling England's world champion and world record holder Gemma Spofforth.
"It is a big weight off my shoulders," Emily said. "I was never going to win eight gold medals. I knew that myself. I didn't expect it to be such a big deal in the media ... I did something for myself, I won a gold for me."
Earlier, she won silver in the 100m freestyle with a time of 54.30, finishing behind compatriot Alicia Coutts who won in 54.09.
Tue 5 Oct 10:Emily won bronze in the 50m butterfly, finishing behind England's Fran Halsall who clinched gold.
It was her second final of the Games but there are hopefully another six to come.
Emily won her 100m backstroke semi-final and came third in her 100m freestyle semi-final to qualify for Wednesday's finals.
Mon 4 Oct 10: Emily has missed out on the chance to win a clean sweep of golds at the Commonwealth Games. She won silver in the 200m individual medley with a time of 2:10.83.
Emily is through to the final of the 50m butterfly at the Commonwealth Games after finishing fourth in the semi-final.
Emily will race 18 times over six days and to avoid an upset stomach she has revealed that cereal is key to her success.
Fri 27 Aug 10:Emily has been selected for Australia's Commonwealth Games swimming squad. She has the potential to make headlines as she will be competing in eight events.
Sun 22 Aug 10:Emily rounded off an outstanding week at the Pan Pacific Championships by adding a gold in the 200m individual medley to silvers in the 100m freestyle, 4x100m freestyle relay and 4x100m medley relay.
Thu 19 Aug 10:Emily won gold in the 100m backstroke and silver in the 50m butterfly at the Pan Pacific Swimming Championships in California.