50 worldwide contenders for 2012: Missy Franklin
Last updated on .From the section Olympics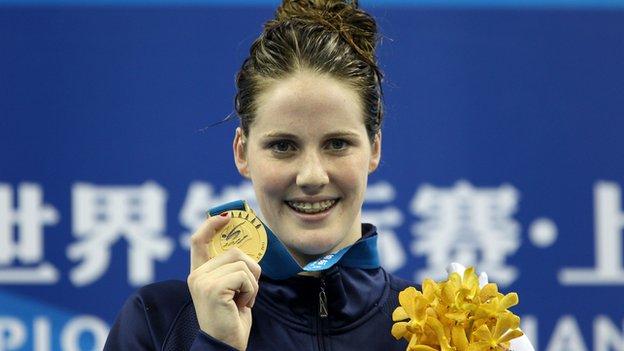 Swimming (backstroke, freestyle, medley relays)
Born: 10/05/95
Career highlights
Melissa 'Missy' Franklin came to international prominence at last year's World Championships in Shanghai, winning three gold medals - in the 200m backstroke and two relays - at the age of just 16.
She won five medals in all, leaving team-mate Michael Phelps to declare: "She is probably one of the best female swimmers I've ever seen."
Did you know?
Last October, she became the first woman to break a swimming world record since hi-tech suits were banned at the start of 2010.
It came in the 200m (short-course) backstroke, her favourite event, at the World Cup in Berlin.
Personal
Born in California to Canadian parents, Missy the Missile is built to swim: she is already 6ft 1in tall with a 6ft 4in wingspan and UK size 11 feet.
Franklin's love of water extends beyond the swimming pool; the Colorado high school student is considering a degree in marine biology.