London 2012: Im Dong-Hyun's journey to the Olympics
Last updated on .From the section World Olympic Dreams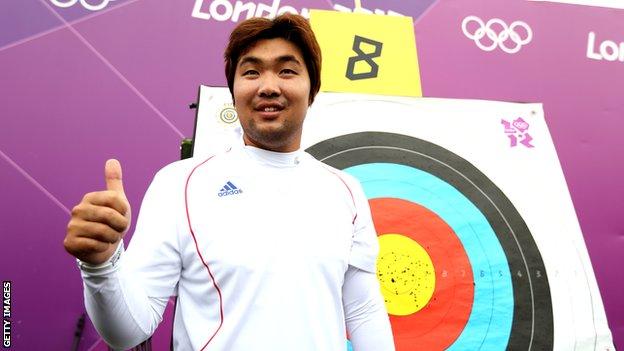 LATEST NEWS - 2012
Fri 03 Aug 12: South Korea's 'blind' archer Im Dong-Hyun had a mixed performance at the London Olympics.
In the individual event he lost to Rick van der Ven from the Netherlands in the round of 16 after setting a world record in qualification. South Korea went into the team event as favourites but were eliminated by the USA in the semi-final.
Fri 27 Jul 12:
Im Dong-Hyun, who is visually impaired, set a record of 699 in the individual ranking round. He also joined forces with Kim Bub-Min and Oh Jin-Hyek to record a new best in the team event - a 216-arrow total of 2,087.
Wed 02 May 12: Im Dong-Hyun broke his own world record on the way to World Cup victory in Turkey.
His 696 points from 72 arrows, surpassed the record he set at Lord's in October.
"It was a surprise to break the world record again," he said afterwards. "I knew I could do it, but it's all the time a surprise to reach such a result."
LATEST NEWS - 2011
Mon 10 Oct 11: South Korean archer Im Dong-Hyun has broken two world records during the Olympic test event at Lord's Cricket Ground.
Im took silver at the London Archery Classic - London 2012's test competition for archery - having scored 693 points to break his own 72-arrow record in qualification. Korea claimed bronze in the team event and set a new world record total of 233 points along the way.
"It's an honour for me to compete in this historic place," Im said. "I'm very happy with the world records - they are ideal preparation for the Olympics next year."
Sun 25 Sep 11: Following an injury-affected season, Im Dong-Hyun has finished 14th in the 2011 Archery World Cup's final standings.
Of the four stages that comprise the Archery World Cup, Im only competed in the first two - at Porec, Croatia and Antalya, Turkey where he finished ninth and seventh respectively. Last year's gold medallist, Brad Ellison from the USA, won the World Cup Final in Istanbul.
Mon 15 Aug 11:Im Dong-Hyun has told the BBC that injuries are jeopardising his place on South Korea's Olympic team.
"I've had some surgery and shoulder problems. I try not to push myself too hard, but I also need to perform and earn the results," said Im in his latest inteview for World Olympic Dreams.
Sun 03 Jul 11: Im Dong-Hyun has won team gold with South Korea at the World Archery Championships in Turin, Italy.
Im could only muster fourth place in the individual event after losing 6-4 to compatriot Oh Jin Hyek in their semi-final and then 6-0 to Brad Ellison in the bronze medal play-off.
LATEST NEWS - 2010
Mon 22 Nov 10:Im Dong-Hyun has won gold with South Korea's archery team at the Asian Games.
They beat China 222-218 to claim an eighth successive Asian Games title.
"China performed excellently at first but it was a mental contest more than a physical one and we had more experience," said Im.
Unfortunately, he did not qualify for the finals of the singles event.
Sun 19 Sep 10: At the World Cup finals in Edinburgh, Im Dong-Hyun won silver in the individual men's recurve. He lost out 6-2 to Brady Ellison of the USA in the final.
The two best ranked archers in the World Cup this year met previously in the 2008 gold medal match of the World Cup stage in Antalya, Turkey, where Im won 114-108.
On this occasion, the 22-year-old American was victorious as Im struggled with conditions.
"The weather has been a bit of cold, colder than what I thought. I just would like to congratulate Brady. For myself, I hope I would be the winner if we meet again," Im said.
"I didn't make big mistakes in the game, perhaps I was just unlucky. Now I really hope I can meet the same guy in final of 2012 London Olympics. I will definitely do a better job."
Sat 4 Sep 10:Im Dong-Hyun broke the qualification world record as he won gold in the individual men's recurve at stage 4 of the 2010 Archery World Cup, in Shanghai.
Sat 7 Aug 10: Im Dong-Hyun won bronze in both the individual men's recurve and the men's team recurve at the Archery World Cup, Stage 3 in Ogden, USA.