London 2012: Luol Deng's journey to the Olympics
Last updated on .From the section World Olympic Dreams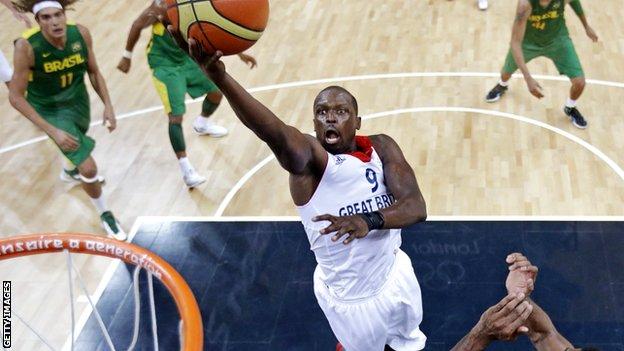 LATEST NEWS - 2012
Mon 06 Aug 12: Team GB failed to qualify for the knock out rounds at the London Olympics but
Team GB beat China 90-58 in their final group stage match to record their first Olympic win since 1948.
"Sometimes you go through things for a reason. We're going to learn from our mistakes," Luol said.
"There were a couple of sleepless nights, but it's all worth it. In the future it will make all of us hungry for more, and better players."
Thu 05 Jul 12:
His decision to play in the Olympics has not pleased the NBA's Chicago Bulls who are paying him £17.76 million for his services over the next two years.
"If I don't play in these Olympics, it will haunt me for the rest of my life," Luol told reporters.
Sat 26 May 12:
Luol requires surgery on his left hand after injuring a ligament while playing for the Chicago Bulls in January. Although the NBA team want him to have that surgery over the summer, the Team GB talisman has made the London 2012 Olympics his priority.
Thu 10 May 12: The Philadelphia 76ers have beaten Luol Deng's Chicago Bulls in the NBA play-offs.
Thu 26 Apr 12: Chicago Bulls have finished atop the NBA's Eastern Conference for the second year in a row. They wil play the Philadelphia 76ers in the play-offs first round.
Mon 27 Feb 12: All did not go smoothly in Luol Deng's debut as the first Briton to play in the NBA's All-Star Game.
He lasted just six minutes before injuring his wrist and could be fined for wearing an unsanctioned T-shirt with a map of Africa on it.
"If I get fined, I'm okay. It was a positive message as there's a lot of negativity going on in the continent of Africa," Deng said.
Referring to the injury, he said: "It was nothing. I fell on my wrist and I felt it. It's just something I accept and you've just got to deal with it".
Deng will likely return to the Chicago Bulls line up for their next game against the New Orleans Hornets on the 29th February.
Fri 10 Feb 12: Luol Deng will make history when he becomes the first Briton to play in the NBA's annual All-Star Game.
"Words can't describe how happy I am - thanks to all my supporters especially the coaches who voted for me," Deng wrote on Twitter.
LATEST NEWS - 2011
Sun 25 Dec 11: Luol scored 21 points on the opening day of the NBA season as the Chicago Bulls beat the LA Lakers 88-87.
Sat 26 Nov 11:The NBA's five-month lockout has ended and the regular season is due to start up again on 25th December.
Wed 02 Nov 11:The start of the NBA season has been postponed following the failure of players and club owners to reach a new collective bargaining agreement.
Mon 05 Sep 11:Team GB made an unsurprising exit from EuroBasket 2011 despite a 88-81 win over Poland in their final group game.
Luol Deng again led the GB scorers with 28 points and Joel Freeland added 27.
"You saw in 2009 we couldn't get any wins at all - now we've got two," said Freeland. "We're going to knuckle down and pull out all the stops to make sure we have a good tournament next year."
Sun 04 Sep 11:Luol Deng and Great Britain have recorded their first win at EuroBasket 2011, beating Portugal 85-73.
Following defeats to hosts Lithuania, Turkey and Spain, Luol scored 31 points as GB registered their first-ever win in a EuroBasket finals game. GB are unlikely to qualify for the second round however - they need to beat Poland by 58 points in their final group game.
Nevertheless, Luol was quick to identify the win as a significant marker on the road to London 2012: "We've had a really tough schedule and today we've done something that hasn't been done for GB basketball in a long time," he said.
Sun 21 Aug 11: Luol Deng has returned to the UK on a mission to bring basketball to the masses.
Luol's coaching camp in Loughborough welcomed youngsters from across the UK and Ireland. Team GB also finished fifth in the London International Basketball Invitational held in the recently-completed Olympic basketball venue.
Sun 10 Jul 11: On the day South Sudan was proclaimed a new nation, Luol Deng set up a basketball clinic at a school in the country's new capital, Juba.
"It's very emotional," Luol told the Enough Project. "I'm really happy that we are all here, everyone who fled. I'm happy that even my parents could see this day. Everything they sacrificed was worth it."
Thu 26 May 11: The Miami Heat defeated Luol Deng's Chicago Bulls in the NBA Eastern Conference final by winning the play-off series 4-1.
Fri 13 May 11: The Chicago Bulls have beaten the Atlanta Hawks to reach the NBA's Eastern Conference final for the first time since the glory days of Michael Jordan in 1998. They will face the Miami Heat in the final.
Tue 26 Apr 11: The Chicago Bulls beat the Indiana Pacers 4-1 in the first round of the NBA play-offs to secure a second round tie with the Atlanta Hawks.
Wed 13 Apr 11: The Chicago Bulls finished the regular season with a 97-92 win over the New Jersey Nets to claim a season record of 62-20.
Sun 13 Mar 11:Luol Deng and Team GB are set for London 2012.
Fiba, the governing body for world basketball, has given Great Britain the go-ahead to compete at the London Olympics. It comes after GB Basketball proved its long-term commitment to the sport after London 2012.
Luol Deng says he is glad the investment he has made in GB Basketball has paid off.
Fri 18 Feb 11:Luol Deng came ninth in Fiba's European Player of the Year award.
Mon 31 Jan 11:Great Britain have been handed a tough draw for August's EuroBasket tournament. Luol Deng and the rest of Team GB will play holders Spain, the hosts Lithuania, World Championship finalists Turkey and Poland.
LATEST NEWS - 2010
Tue 21 Dec 10: As the people of Southern Sudan prepare for a referendum on independence, Luol Deng visited a polling station in Chicago to register his vote.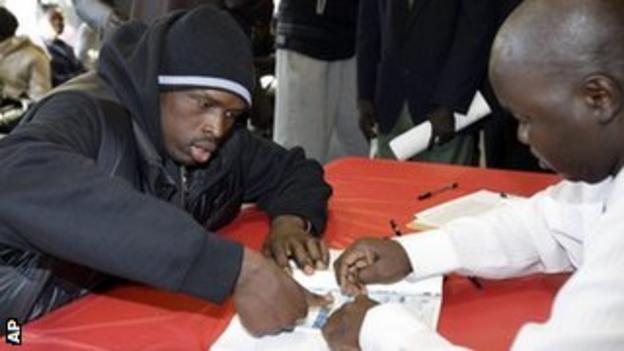 Mon 01 Nov 10:Luol scored a NBA career-best 40 points as the Chicago Bulls beat the Portland Trail Blazers 110-98.
"We just shot the ball well. We moved it and shot it well. You're going to get shots in different places, so you've got to be ready," Luol said.
Wed 27 Oct 10:Luol scored 13 points for the Chicago Bulls in their first game of the 2010-11 NBA campaign.
Unfortunately, the Bulls were beaten 106-95 by the Oklahoma City Thunder.
Wed 09 Sep 10: Fiba, the governing body for world basketball, have announced they will decide in March 2011 if GB can compete at the London Olympics. To strengthen their cause, Britain have bid to host the 2015 EuroBasket Championships.
Thu 26 Aug 10:Great Britain beat Bosnia 94-85 to qualify for EuroBasket - the European Championships taking place in Lithuania next year. Luol Deng hit 38 points, his highest yet for Team GB.