London 2012: West Ham bid to be Olympic Stadium tenants
Last updated on .From the section Olympics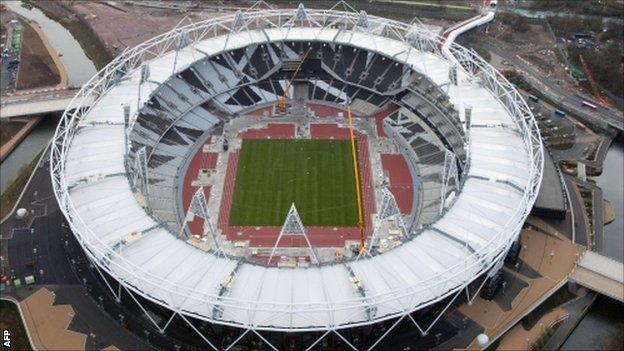 West Ham are among four bidders seeking to become tenants at the Olympic Stadium after the London 2012 Games.
The Championship club had looked set to move into the venue but a deal with Newham Council collapsed in October.
Sixteen parties expressed an interest when the tender process was announced, but only four submitted proposals, and Leyton Orient are not among them.
Hammers vice-chairman Karren Brady said any move was conditional on the stadium being "fit for world-class football".
West Ham's original deal to take over the stadium fell through following complaints from Tottenham, Orient and another anonymous party.
The Olympic Park Legacy Company (OPLC) decided to start the process again but instead offered the stadium on a lease basis, rather than a permanent one.
A spokesman for the OPLC said: "We have received four bids from parties interested in using the stadium after the Games.
"The legacy company will shortly start its evaluation process with the aim of announcing which concessionaires will occupy the stadium alongside athletics before the Games. Legacy planning is further ahead than any previous Olympic host city."
Leyton Orient chairman Barry Hearn confirmed that his club had not applied for tenancy and that West Ham using the stadium will be "disastrous" for the O's.
"This stadium is going to kill the area and kill our football club," Hearn said.
"We organised a £30,000 survey of the effect that West Ham will have on moving to Stratford and the results are pretty disastrous."
Hearn added that he thinks the stadium, which will be reduced to a 60,000-seater arena from its Olympic capacity of 80,000, is not fit to host top-tier football.
"The stadium is a magnificent athletics stadium, it's just not built for football," he said.
"The pitch is 40 to 50 yards away from the front row of seats and I personally find that abhorrent for football. Football grounds have steep stands but this one doesn't. The view from the lower tier is dreadful.
"It's not a white elephant. It's a white elephant that they're trying to make into a pink flamingo. If you're talking about atmosphere, then forget it.
"This represents a quantum change in the experience of a football punter and frankly it could be the demise of West Ham if they move there. It's a huge slap in the face to their fans and their history."
West Ham hope to move about four miles from their current home at Upton Park in east London to the new venue.
Brady said the decision "had not been taken lightly" to apply for a 99-year lease of the stadium.
"I would like to thank the many West Ham supporters who have given their time to share their opinions on our proposed move ahead of this decision," she said.
"Despite the considerable constraints and confidentially agreements we were required to enter into, I can assure them their feedback has been instrumental in informing the board's approach to our bid.
"From the outset it has been my firm, unwavering belief that the stadium can truly become a multi-use destination of which east London and the nation as a whole can be proud."
The OPLC has said it wants tenants to retain a running track at the stadium, which is reported to have cost £486m to build and is due to host the 2017 World Athletics Championships.
"Our vision for the stadium has always been about standing up for the promises made for London back in Singapore in 2005 and what they meant for our future generations," said Brady.
"We are honoured to have once more received the support and backing of our friends at UK Athletics."
A decision on the successful bidder is expected in May, two months before the Games open on 27 July.