London 2012: Masai siblings' road to the Olympics
Last updated on .From the section World Olympic Dreams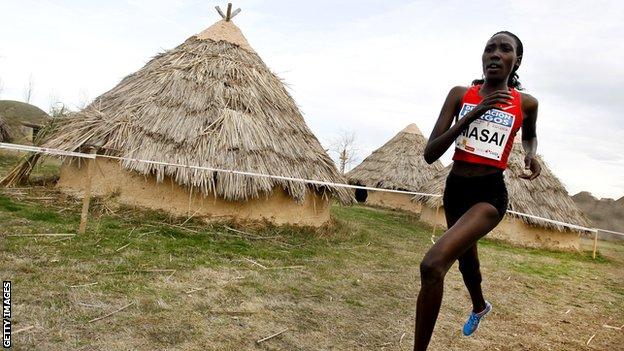 LATEST NEWS - 2012
Sat 04 Aug 12: Kenyan 10,000m runner Moses Masai finished 12th in
At a Moses finished second behind Wilson Kiprop in a season's best time of 27 minutes 2.25 seconds.
Sun 20 May 12: Linet Masai has won the Manchester 10k race.
Tue 17 Apr 12:Moses Masai has edged a step closer to London 2012 after winning a preliminary trial race held in Nairobi.
The former world 10,000m bronze medallist will now head to Oregon, USA in June where the final three runners to compete for Kenya in the 10,000m event at the London Olympics will be selected.
"The race was good for me today because my injury is now gone so I have seen that I'm in good shape so my chances for the Olympics are good," said Moses.
"In Beijing, I missed the bronze medal and if I get the chance, this time I want to get something for me and my country."
Tue 06 Mar 12: All three Masai siblings have been included in Kenya's provisional Olympic team. Linet, Moses and younger brother Dennis will all be vying for a medal in the 10,000m event.
"Who knows, all the Masai siblings can make it to the Olympics. I am 100 per cent sure of Linet while Moses and Dennis have a battle at hand but can also make it with hard work," said head coach, Julius Kirwa.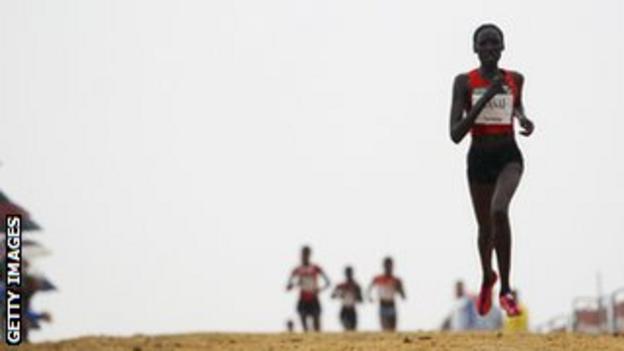 Sun 15 Jan 12: Linet Masai has won the 2012 Italica Cross Country race in Seville.
She defeated her closest rival and the current Cross Country champion Vivian Cheruiyot by 18 seconds.
"I felt very comfortable throughout. I began conservatively but then decided to push hard as Vivian has beaten me several times over the closing metres," Linet said.
LATEST NEWS - 2011
Sat 27 Aug 11: Linet Masai has failed to defend her 10,000m title at the World Championships in Daegu, South Korea.
In 2009, Linet won gold to end 10 years of Ethiopian dominance in the event but finished third on this occasion behind compatriots Vivian Cheruiyot and Sally Kipyego in a time of 30 mins 50.04 secs.
Sat 11 Jun 11: Linet Masai has defended her New York Mini 10K title.
"The pace was slow so I took off at around two miles and saw the other leaders were dropping, that is when I knew I had the lead," Linet said.
Sun 20 Mar 11: For the third year in a row, Linet Masai has won silver at the World Cross Country Championships.
Linet's compatriot and rival Vivian Cheruiyot won the 8km race at Punta Umbria in Spain in 24 mins 58 secs. Linet was clearly frustrated she could not upgrade her two previous silvers into a gold.
"My goal was to win this championship because I'm strong and running well, but once again I finished second," she said.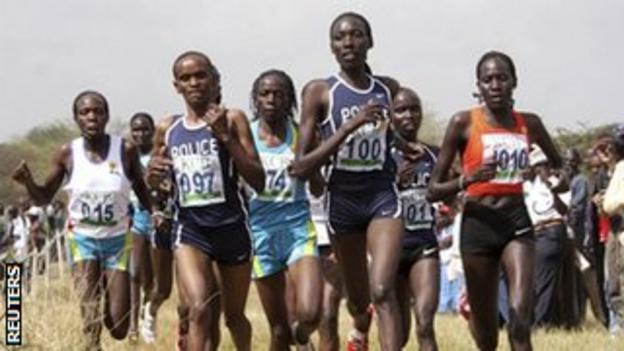 Sat 19 Feb 11: Representing Kenya Police, Linet Masai won the women's 8km race at the Kenyan Cross Country Championships.
The victory has secured her place in the national team for the World Cross Country Championships taking place in Punta Umbria, Spain next month.
Sun 16 Jan 11: A week after outrunning Vivian Cheruiyot in Edinburgh, Linet Masai was overtaken by her compatriot in the final 500 metres of the 2011 Italica Cross Country Race in Seville, Spain.
Sat 8 Jan 11: Linet Masai dominated the women's 6k race at the Great Winter Run.
She won the Edinburgh race in 20 mins 24 secs, eight seconds ahead of nearest rival Genzebe Dibaba of Ethiopia and 12 seconds ahead of the world 5,000m champion, and fellow Kenyan, Vivian Cheruiyot.
LATEST NEWS - 2010
Sun 19 Sep 10: 19-year-old John Mwangangi pipped Moses Masai to the line at the Dam to Dam 10-mile run. Moses finished one second behind Mwangangi whose time of 45mins 26secs was the second fastest of the year.
Linet Masai has withdrawn from Kenya's Commonwealth Games squad through injury.
Mon 30 Aug 10: Linet Masai has been selected for Kenya's Commonwealth Games squad. Moses did not make the squad.
Thu 19 Aug 10: Britain's Mo Farah set a new British 5,000m record at the Zurich Diamond League meeting whilst Moses Masai could only muster seventh place.
Sat 31 Jul 10: Linet Masai came third to Ethiopia's Tirunesh Dibaba in the women's 10,000m at the African Athletics Championships in Kenya.
Tue 26 Jul 10: Linet Masai has won the 2010 New York Road Runners 10k race.
Despite it being the Kenyan's US road race debut, Linet swept past a field that included six world champions to claim first place.
"It is my personal best," said the 20-year-old after clocking a time of 30mins 48 secs. "That was my plan. After 5,000m, just push and try to run my best."