Dwain Chambers backed for Olympics by Christian Malcolm
Last updated on .From the section Olympics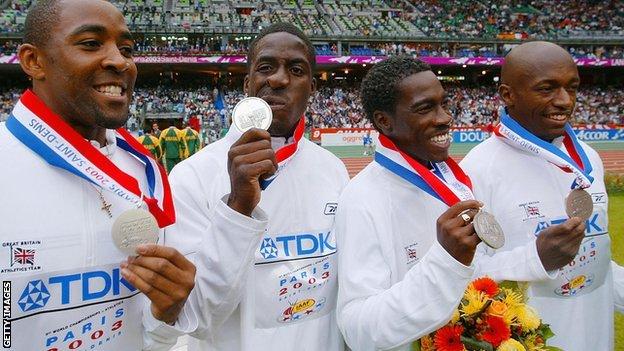 Christian Malcolm hopes Dwain Chambers will have his lifetime Olympic ban quashed so his old friend can line up alongside him at the London Games.
British sprinter Chambers, found guilty of taking the anabolic steroid THG in 2004, hopes to get a chance at London.
And Team GB team-mate Malcolm said: "He has served his time now."
Malcolm, the 2010 European silver and Commonwealth bronze medalist, paid a considerable personal price for Chambers' cheating.
The 32-year-old and Chambers, 33, made up half the GB 4x100m relay team that raced to silver at the 2003 World Championships in Paris, also aided by Darren Campbell and Marlon Devonish.
But the British quartet had their medals taken away as a consequence of anchor-leg runner Chambers testing positive for a banned substance six months later.
"When he first failed the drug test, I was the first person he called," Malcolm told the BBC Wales Sport Wales TV show.
"But what I heard in his voice was the disappointment and the fear.
"I was angry at him but I knew he was hurting and I knew he needed me.
"He came to stay with me for six to eight weeks during that period to get away from the media.
"He apologised and we had our discussions and I have forgiven him for what he has done."
Welsh 200m runner Malcolm admits he was "frustrated" by his friend as he felt Chambers, who had already won an individual European silver and a world bronze before his ban, was good enough to win major tournaments.
"He was misled at the time," said Malcolm, hoping to qualify for his fourth Olympic Games in London.
"He was young, vulnerable, very naive and has learned from a hard mistake.
"Dwain has a good heart but went through a stupid period in his life where he was naive.
"There should be redemption and I like to see drug cheats come back because I like to see what they can do without the drugs.
"Are they really talented enough to perform well or did the drugs help them?
"If they come back without the drugs in their system and don't do well, then that is a real punishment."
Chambers was Britain's fastest 100m runner in 2011 and the 33-year-old won bronze in the 60m in the world indoors championships in Turkey earlier this month.
The BOA is "cautiously optimistic" its lifetime bans for drug cheats like Chambers will be upheld by The Court of Arbitration for Sport (Cas).
A verdict by Cas is expected in April after hearing arguments from the BOA and the World Anti-Doping Administration, which opposes lifetime bans, earlier in March.