London 2012: Andrew Selby and Fred Evans tipped to claim medals
Last updated on .From the section Boxing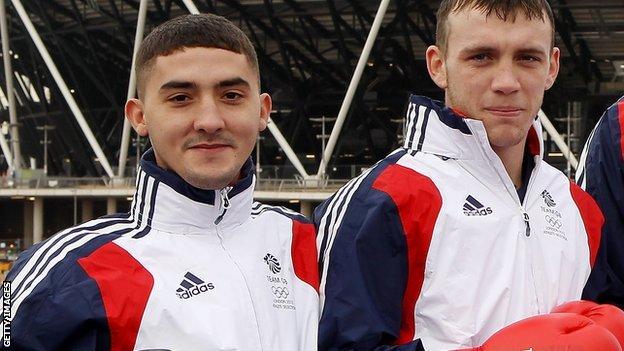 Andrew Selby and Fred Evans will join Ralph Evans as Wales' only Olympic boxing medallists, according to national coach Colin Jones.
Flyweight Selby and welterweight Evans are two of five British boxers to have qualified for the 2012 London Games.
"Out of the five I think Andrew and Fred must be amongst the favourites to win a medal," said Jones.
"I think it's expected of them really. They are more than competent. It would be a disappointment if they didn't."
Selby sealed his place at his first Olympics after beating fellow GB team member Khalid Yafai in a box-off in November.
The 23-year-old from Barry became Wales' first European amateur champion in 86 years when he beat former three-time champion Georgy Balakshin in 2011.
He followed that up with a silver medal at the World Amateur Championships in Baku, ensuring his billing as a gold-medal contender in London this summer.
"All I hope is that it doesn't put too much pressure on him because Andrew is a very relaxed boxer," warned Jones, who boxed at the 1976 Olympic Games in Montreal four years after Evans won bronze as a light-flyweight.
"He relies on that to perform well. He handled it well at the World Championships and there's absolutely no reason why he can't do it in London."
Evans, a World Championships quarter-finalist and European champion, has been slightly overshadowed by Selby's achievements.
But the 21-year-old took gold at an international event in Bulgaria in February, a performance that slightly altered his targets as he prepares for London.
"I beat the Cubans out there and other strong countries," said the Cardiff fighter. "After that everyone was telling me to get my mind on a medal.
"If I could come away with that it would be a bonus. Kazakhstan, Cuban and Russia should be strong but I've boxed most of them anyway so I should be alright."
Evans is the nominated driver as he and Selby make the 200-mile trip to Sheffield each week to train three times a day, from Monday to Thursday, at the GB base.
Both have been guided through the amateur ranks by the Wales set-up, and Jones said: "They've made the commitment and now they are reaping the rewards. Qualification for the Olympic Games is the end product."
And Selby added: "I'm counting down the days. I've been training all my life for this and I can't believe I'm there."
Ralph Evans is Wales' only Olympic boxing medallist to date, winning bronze as a light-flyweight at the Montreal Games in 1972.