London 2012: MC Mary Kom's journey to the Olympics
Last updated on .From the section World Olympic Dreams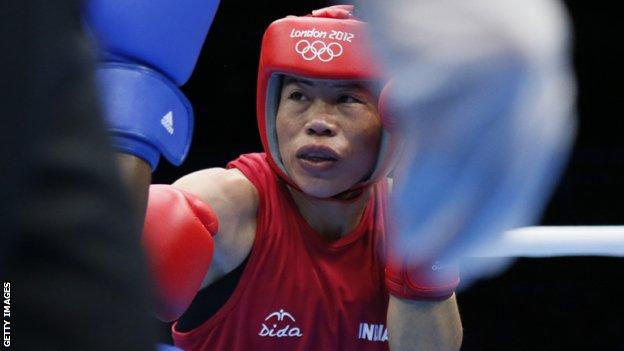 LATEST NEWS - 2012
Wed 08 Aug 12: India's five-time world boxing champion MC Mary Kom has won bronze at the 2012 London Olympics.
"I like the fact that I'm known as the super mommy of boxing and I've made motherhood fashionable," Mary Kom said of her twins. "What more can a woman ask for! My kids are my inspiration and my biggest driving force!"
Thu 17 May 12:MC Mary Kom has qualified for the London Olympics by finishing as one of the top two Asian boxers at the Women's World Boxing Championships.
"Olympic slot confirmed finally! I am so happy," she told the Press Trust of India. "Medal is very important for me. I am happy with the qualification but I am very upset not to get a medal."
Thu 17 May 12: Mary Kom's Olympic dream is hanging in the balance after she failed to reach the semi-finals of the Women's World Boxing Championships in China.
Great Britain's Nicola Adams defeated the Indian champion 13-11 in the quarter-finals.
Tue 15 May 12: At the Women's World Boxing Championships in China, MC Mary Kom has progressed to the quarter-finals where she faces Great Britain's Nicola Adams.
If she reaches the semi-final or finishes as one of the top two Asian boxers in the competition, Mary Kom will qualify for the London Olympics.
Mon 26 Mar 12:MC Mary Kom won gold at the weekend's Asian Women's Boxing Championships (Times of India).
Ahead of the final against China's Ren Cancan, Mary Kom predicted: "If she is world champion, then I am also world champion. It's going to be an easy final."
She duly defeated her Chinese opponent 14-8 to avenge a semi-final defeat at the 2010 Asian Games in Guangzhou.
Mon 27 Feb 12: Five months out from the start of the Olympics, MC Mary Kom has enlisted the services of a new coach.
The reigning world champion has moved to the city of Pune from her usual base in Patiala, Punjab to be with British coach Charles Atkinson for a month.
"I wanted to train alone... away from all the distractions," said the fighter. "I have been going through the same routine for the last 10-11 years. For the Olympics, one has to break away from the mould."
Thu 02 Feb 12:Mary Kom has told the BBC she wants to remind India of its 'forgotten' state.
LATEST NEWS - 2011
Fri 25 Nov 11:MC Mary Kom suffered a shock defeat at the London 2012 boxing test event.
"Today was not my lucky day," she said after losing to Argentina's Pamela Paoloa Benavides in the quarter-finals.
"Before the bout I had a minor ankle injury. The world championships are the qualifiers for the Olympics so that is the main tournament and I will do my best for my country there."
Mary Kom also added her voice to a recent debate about whether women boxers should wear shorts or skirts at next year's Games: "The tennis players wear skirts and the badminton players are wearing skirts so why don't the boxers wear skirts?"
Mon 17 Oct 11:MC Mary Kom has won her eighth national title in 12 years (Times of India).
She outpunched Pinki Jangra 13:9 to secure the flyweight title at the Indian Championships in Bhopal.
Mon 09 May 11: Mary Kom has won gold at the Asian Cup Women's Boxing Tournament in Haikou, China.
The decision to compete was a tough one because her three-and-a-half-year-old son was due to undergo heart surgery.
After seeing his wife beat North Korea's Kim Myong Sim to the title, Omler Kom said: "It was an emotional decision for her to leave before our son's surgery but she promised me she would get the top spot, and I am happy that she did".
LATEST NEWS - 2010
Mon 28 Dec 10:MC Mary Kom has revealed that she will retire after the London Olympics (Times of India).
"I can look upon it as a sacrifice for two more years, but not after that. Soon my children will wear their first school uniforms and I don't want to miss it," she said.
Wed 24 Nov 10:Mary Kom has suffered an upset at the Asian Games but still leaves with a bronze medal.
She cruised through the qualifying round by defeating Chieh Meng Ping from Taiwan 16-2 but lost her semi-final to China's Cancan Ren 11-7.
Sat 18 Sep 10:MC Mary Kom has rewritten the record books by winning a fifth consecutive world title, beating Steluta Duta 16-6.
Fri 17 Sep 10: MC Mary Kom out-punched Alice Appari 8-1 to secure her place in the final. She will go up against Steluta Duta of Romania who beat Kazakhstan's Nazgul Boranbayeva 10-5.
Wed 15 Sep 10: Mary Kom beat Wales' Lynsey Holdaway 9-2 in the quarter-final and will face Alice Appari of the Philippines in Friday's semi-final.
Tue 14 Sep 10: MC Mary Kom is looking good for a fifth consecutive world title after progressing to the quarter-finals of the World Women's Boxing Championships in Barbados with a thumping win over Australian Jenny Smith.
Wed 8 Sep 10: World Olympic Dreams caught up with MC Mary Kom in her home town of Manipur.
Mon 16 Aug 10: MC Mary Kom will lead India's team at the World Women's Boxing Championships in Barbados next month.
She will move up to the light flyweight (-48kg) category from the 46kg class in which she won the World Championship four times in a row.