London 2012: David Davies set to retire after third Olympic tilt
Last updated on .From the section Wales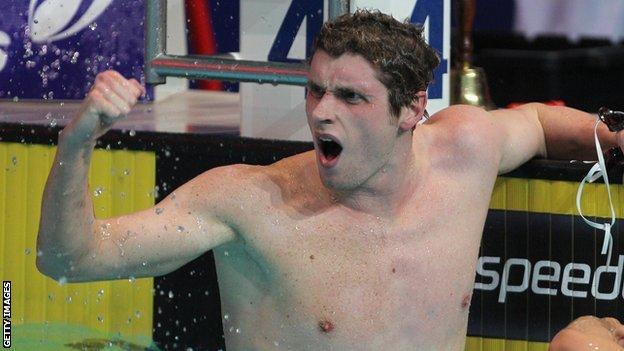 Welsh long distance swimmer David Davies insists London 2012 will be his final appearance at the Olympic Games.
The 27-year-old says he could also retire from swimming altogether following the summer event.
Davies, from Barry, has won silver (2008) and a bronze (2004) medals at the last two Olympic Games.
"It's definitely going to be my last Olympics. Whether I do carry on it's not definite, I'm probably 90% sure that I will finish," said Davies.
"But there is no point planning it because you don't know what happens in sport. It's a hard decision to make.
"I can't imagine finishing in a better position than in your home Olympics, hopefully doing well and that being the last memory of your sport."
Davies has fought back from a complete lack of form to secure his place at the London Games. in the 1,500m freestyle.
Fatigue problems forced him to withdraw from the 2011 World Championships and thoughts of retirement began to take hold.
He took a six-week break after medical advice and then rediscovered his appetite for the sport.
Olympic qualification was no guarantee for the 1,500m British record holder, but Davies has been spurred on by the thought of performing at his home Olympics.
"I started doubting myself and whether my time was up," he said. "I couldn't really give it up. Everyone is talking about it [the Olympics].
"Everyone wants to be a part of this games and it's going to be something very, very unique and special. So I couldn't give it up. I had to at least to attempt to get there.
"As soon as I started back training last September, things have picked up straight away. Luckily I have found a bit of form - not my best form - but enough to get on the team for now.
"I think the time out saved me to be honest. Because I just couldn't find a cure to what was going on in my training. The only solution was to have some time off.
"After being through the bad times I just want to go there and have a fantastic race in whatever races I'm doing knowing. I've given it my all and am getting what I deserve.
"If I get a medal, brilliant, if not then at least I've got two already."