London 2012: Olympic preparations impress IOC
Last updated on .From the section Olympics
The London 2012 Olympics have provided a "legacy blueprint" for future Games, the president of the International Olympic Committee (IOC) has said.
Jacques Rogge's praise came after he was given an update on preparations by Prime Minister David Cameron at the start of a final three-day IOC visit.
"London has raised the bar on how to deliver a lasting legacy," he said.
Mr Cameron assured the IOC that promises on security and transport and a lasting legacy would be delivered.
Welcoming the IOC delegates, who are in London to ensure everything is going according to plan for the start of the Games on 27 July, Mr Cameron said London would deliver "the greatest show on Earth".
He said being chosen to host the Games was "an extraordinary honour for the UK and we intend to repay that faith".
He added: "I believe the message is clear: London will be ready, on time and on budget.
"The true legacy of London 2012 lies in the future. Though much has been done, I am acutely aware that the drive to embed and secure the benefits of London 2012 is still to come.
"That is our biggest challenge. It's also our greatest opportunity."
The IOC inspection coincides with the publication of the government's "Beyond 2012" plan, which outlines the sporting, economic, regeneration and community legacy of the Games.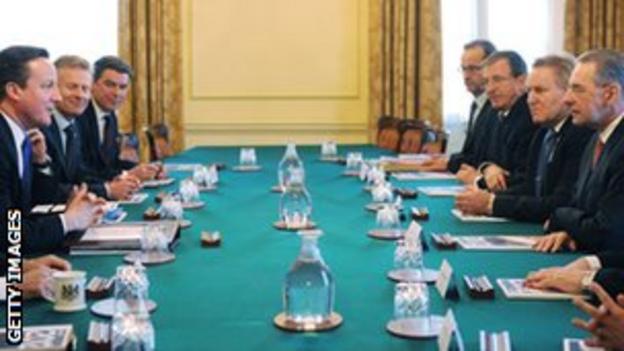 The School Games are part of the effort to encourage young people to get involved in sporting events.
Finalists from the School Games were among those at a reception at 10 Downing Street, hosted by the prime minister and the Princess Royal.
Lord Coe, chairman of the London Organising Committee of the Olympic Games (Locog), said: "London 2012 will be a summer of sport and celebration like no other. But it will only be the start of the journey.
"My dream is that millions of young people, here and overseas, will witness the achievements of the finest sportspeople on the planet and be inspired to take up sport for themselves."
IOC president Mr Rogge met Mr Cameron, Culture Secretary Jeremy Hunt, London 2012 chairman Lord Coe and Sports Minister Hugh Robertson at Downing Street.
He said: "We can already see tangible results in the remarkable regeneration of east London. This great historical city has created a legacy blueprint for future Games hosts.
"There is an economic legacy also. Tourism will get a boost and definitely there will also be a soft legacy; the enthusiasm of young kids to participate in sport.
"To conclude prime minister we are a happy International Olympic Committee."