Philip Dalhausser profile
Last updated on .From the section Olympics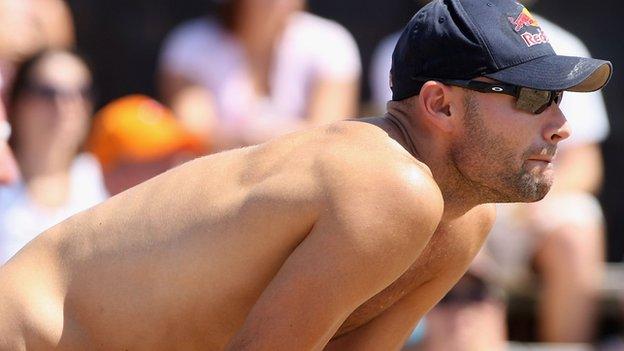 Beach Volleyball (Men's)
Career highlight
The 2.06m (6ft 9in) American was named as player of the tournament at the 2008 Olympics as he and Todd Rogers claimed gold thanks to some heroic performances after losing their first game to Latvia. The pair set a single-season record of nine tour titles in 2010, winning 75 of their 86 matches overall.
Career background
His partnership with Rogers began in 2006; the more experienced and older Rogers also doubles up as Dalhausser's coach. With Dalhausser hampered by an ankle injury in 2011, the pair suffered their first defeat in 40 matches, spanning 10 months, against Brazilians Emanuel Rego and Alison Cerutti.
They were then knocked out of the World Championships at the last-16 stage by the German pair of Julius Brink and Jonas Reckermann.
Dalhausser was born in Switzerland and lived there for a year before moving to the United States with his Swiss mother, Marianne, and German father, Peter.
After gaining a degree in business administration from the University of Central Florida, Dalhausser worked for a concrete company and then, briefly, for a firm that painted stripes on Florida highways.
Did you know?
He grew up playing tennis and baseball and when first asked to try volleyball he responded: "Volleyball is for girls."