Dayron Robles profile
Last updated on .From the section Olympics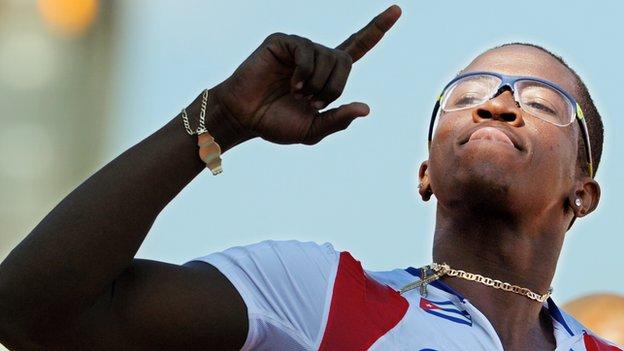 Athletics (Men's 110m Hurdles)
Career highlight
His rivalry with China's Liu Xhang was one of the most hyped in Beijing, the expectation ruined by Xiang's heartbreaking exit with an Achilles' injury. Robles went on to claim gold and has also taken the world record.
Other career
Since Beijing the rivalry has grown more intense, spiced by the controversial 2011 World Championship final where Robles was disqualified after impeding Xiang with his hand.
He has been blighted by a recurrent leg injury which forced him to withdraw from the 2012 World Indoor Championships, even suggesting that it might be the end of the career. "I want to finish the Olympics and retire right then and there," he said. His coach has hinted that his worries may be mental as much as physical.
Did you know?
His uncle, Eulogio Robles, represented Cuba in the 400m Hurdles in the 1970s. His late father, Gualberto, was a musician and Dayron is a big rap and reggae fan.