Marianne Vos profile
Last updated on .From the section Olympics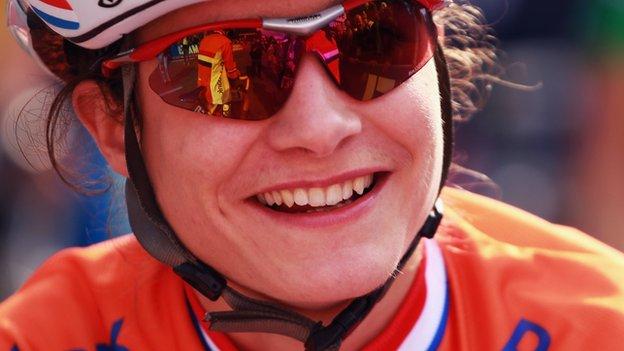 Cycling - Road (Women's Road Race, Individual Time Trial)
Career highlight
The 2011 season saw her dominate her opponents with a crushing supremacy winning the Tour of Italy and Flech Wallonne. Her success was such that it is easier to name the races she didn't win than those she did: the World Championships and the Tour of Flanders.
Other career
She won the World Championship Road Race in 2006 as a teenager. Since then she has finished second five times in succession, an unbroken run of podium places which stretches back to 2004, if her record at Junior level is included.
Vos is one of the most complete riders of any generation, having won senior World titles in every discipline bar BMX, along with almost every major road race in the calendar.
In 2008 she took both World and Olympic titles in the Points race, an event no longer featured in the track programme. The only significant honour missing from her record is the Olympic Road Race, which she will target in London.
Did you know?
It would seem the only cycling discipline Vos has no ambitions in is BMX - it's also the only one in which she hasn't won a major title. "I like to keep my wheels on the ground," she joked. Shanaze Reade can breathe easy then.