Victor Conte rejects concerns over Olympic attendance
By Matt Slater
BBC sports news reporter
Last updated on .From the section Olympics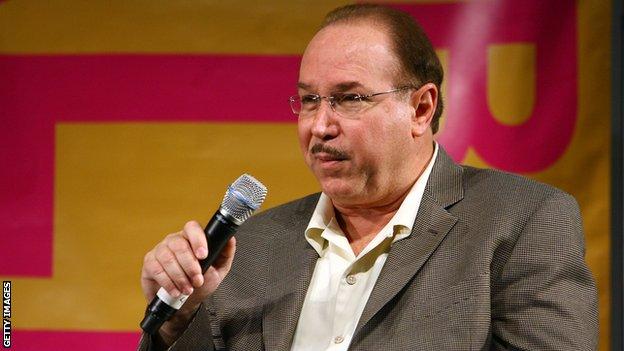 Victor Conte, the man behind the most notorious doping scandal in American sport, has hit back at claims he should be blocked from attending the Olympics.
Reports have claimed the Home Office might stop him from entering the UK.
Conte's company supplied Olympic medallists, baseball players and American footballers with drugs but he is now an anti-doping campaigner.
"I don't present a safety or security risk of any kind and there is no reason for such concern," he told BBC Sport.
In 2005 Conte pleaded guilty to charges of distributing steroids and cheque fraud.
He served four months in prison for his central part in the Bay Area Laboratory Co-operative (Balco) scandal.
Conte added: "I made very serious mistakes in the past but I have learned from my mistakes and changed for the better as a person.
"I have since become an outspoken anti-doping advocate, who is truly grateful to those athletes who have found forgiveness in their hearts and given me another opportunity."
One of those athletes is boxer Marlen Esparza, the US national flyweight champion, and Conte hopes to travel to London to support her, although the controversial "nutritionist" will not be part of the official US delegation.
Conte's Balco supplied athletes with performance-enhancing drugs for more than a decade.
But that came to a dramatic end when federal agents working in conjunction with the US Anti-Doping Agency raided his premises in California.
What followed was a remarkable chapter of accusations and revelations that left the reputations of track and field superstars like Marion Jones, Tim Montgomery and Kelli White in tatters, and forced professional baseball to finally address its doping problems.
The fall-out from Conte's activities was still being felt last year, eight years after that raid on his offices, when baseball's tarnished hero Barry Bonds was found guilty of obstructing justice.
But the implications of the Balco scandal were not just felt in the US.
British sprint champion Dwain Chambers was the first person to fail a test for Conte's signature product, a designer steroid called THG or "The Clear".
As a result of this positive test, Chambers was given a two-year ban in 2004.
He returned to the track in 2006 but remains barred from ever competing for Great Britain at the Olympics.
That Olympic ban, however, is the subject of a challenge at the Court of Arbitration for Sport in Switzerland.
A verdict is expected in the coming weeks and Chambers could well find himself eligible again for his first Olympics since Sydney 2000.
Conte, who remains close to Chambers, hopes the Londoner will be allowed to compete at his home Games.
"I believe Dwain and his family have already suffered greatly for the severe mistakes he made more than eight years ago," said Conte.
"The time has come for all concerned in the UK to begin to heal and move on to have a wonderful collective experience as hosts of an Olympic Games."