London 2012: Chris Hoy's dad criticises Olympic ticket policy

By James Pearce
BBC Olympics correspondent
Last updated on .From the section Olympics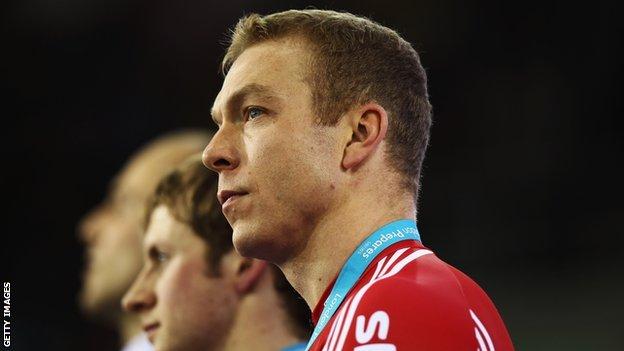 The father of one of Britain's highest-profile Olympians has criticised the London 2012 ticketing strategy.
David Hoy, whose son Sir Chris Hoy won three gold medals in Beijing, is struggling to get hold of tickets to watch him compete in London.
Every British athlete has been given the opportunity to buy two for each session in which they compete.
"I don't think athletes' families have been taken into consideration. It's not rocket science," said David Hoy.
"It just needs somebody to sit down and think about the families who have got the athletes to this level. Just a little bit of payback would be very welcome."
Sir Chris Hoy could be faced with an agonising choice over whether his tickets go to his parents, wife or sister. His father says this is unfair.
The problem has intensified because of the extraordinary demand for tickets at the London Games. Many events, including cycling, have been oversubscribed.
However, the maximum number of British cyclists competing in any session at the velodrome is nine, so even if they were allowed to buy five tickets each it would only require a total of 45 tickets.
The final round of ticket sales is due to take place in a few weeks' time. David Hoy is urging the organising committee, Locog, to hold back some of those tickets for the families of athletes.
Locog defended its stance: "Locog is guaranteeing all athletes up to two tickets for family and friends for every session they compete in, and this hasn't always been the case for previous Games.
"Athletes' families typically can also get tickets from governing bodies and their national Olympic committees. Sponsor Proctor and Gamble is also helping Team GB athletes' families with tickets."
David Hoy and his wife, as well as Sir Chris Hoy's wife, are currently in Melbourne watching the cyclist compete at the Track Cycling World Championships.
They travel the world watching him, while a large family group went to Beijing to support him at the last Olympics.
Many other athletes have been facing similar problems.
Last week the BBC revealed how the world 400m hurdles champion Dai Greene and Olympic rowing gold medallist Zac Purchase had both bought tickets for their finals from strangers who had contacted them on Twitter.
This hasn't been such a problem at previous Olympics, as the allocation of tickets given to British spectators has usually been sufficient.
David Hoy is also complaining about Locog's policy, which is currently under review, of charging babies the full price for a seat at the Games. Sir Chris Hoy's niece is four months old.
David Hoy said: "It's crazy. She'll just sleep on someone's shoulder, so there will just be an empty seat which could go to somebody desperate to see the Olympic racing."
These comments from the father of such a well-known British Olympian will increase the pressure on Locog to review their policies for babies, and also the families of athletes.
David Hoy says that his message to Locog is simple: "Please consider how you would feel if your son or daughter had worked for 10 or 12 years and slaved, trained really hard, got to this level, and then you were told 'Really sorry, you're going to have to sit and watch it at home'.
"Just imagine how you'd feel and do something about it, please."