BOA's Lord Moynihan says 'one idiot' can ruin a London 2012 event
Last updated on .From the section Olympics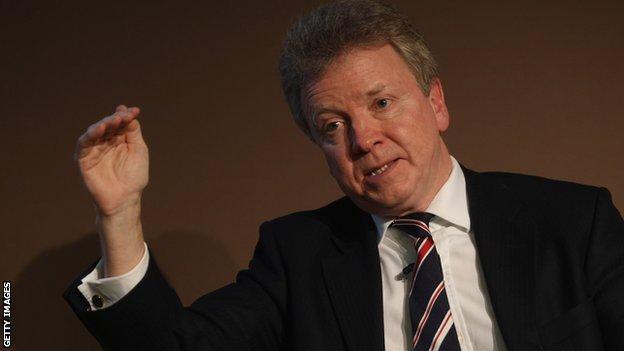 The British Olympic Association (BOA) chairman Colin Moynihan says security measures at London 2012 are being reviewed constantly to help prevent a repeat of the Boat Race disruption.
But he warned it "just takes one idiot" to ruin an event.
Lord Moynihan told BBC Radio 5 live: "Both the police and security operations around all venues and athletes are being reviewed day by day.
"That is so we can have the best chance of an incident-free games."
But he added: "It just takes one idiot, similar to the idiot [at the Boat Race], who causes major disruption. That's why all the security measures need to be put in place to minimise the chances of that happening. You can never completely remove it but you can do everything possible to minimise it."
A man has been charged over an incident which led to the Boat Race being halted half-way through. Trenton Oldfield, 35, of Whitechapel, east London, will appear at Feltham Magistrates' Court on 23 April charged under the Public Order Act.
Lord Moynihan told Sportsweek: "He obviously knew what he was doing. The two crews only take up a very small width of the river. To have got in there was a very unexpected result. I would never imagine anyone could get themselves into that position."
The BOA chairman, who competed in the Boat Race with Oxford, sympathised with the rowers affected by the intruder.
He said: "First and foremost, my reaction is massive disappointment for the crews. These guys train for seven months - day in, day out.
"It's a rare sporting event and for it to be effectively destroyed by the actions of a crazy guy, who was seriously putting his life at risk, was a massive disappointment."
Race umpire John Garrett halted the race after his assistant, the four-time Olympic champion Sir Matthew Pinsent, spotted the protester in the water just after the crews had passed Chiswick Steps.
Pinsent said: "It's not ideal but given those circumstances what could we do? It's a safety issue. Fortunately we spotted him and stopped the race. We couldn't possibly have carried on."
Olympic sports such as sailing, cycling, open water swimming and the marathon appear vulnerable to similar issues.
Looking ahead to London 2012, Lord Moynihan said: "It's so important to work closely with the police and security agencies and put in place every possible measure to protect the interests for all the athletes coming from the 204 countries of the world. In many respects, that's the biggest ask of the Games this summer.
"It's not impossible but it's a major challenge. It's a challenge that has been taken on, to a level that I have never seen at a sporting event before. I don't think more could be done."