London 2012: Michael Johnson on coping with Olympic pressure
Last updated on .From the section Olympics
Sporting history is littered with seemingly sure-fire winners who crumbled when it came to the big occasion.
To try to avoid joining that infamous list at the London Olympics, British athletes are training their minds, as well as their bodies, to withstand the pressure to win gold medals on home soil.
It's a situation American sprinter Michael Johnson, now a BBC athletics pundit, found himself in on a humid night in 1996, when he stood at the start line for the 400m final of the Atlanta Olympics.
With 85,000 spectators packed into the Centennial Olympic Stadium and billions more tuned in across the globe, Johnson, as favourite, felt the weight of expectation to win his first Olympic gold.
"I had already been into my professional career for six years and had not won an individual gold medal at the Olympics. There was a tremendous amount of pressure going into 1996 to get it done," Johnson told the BBC.
"First of all you have to acknowledge the pressure, but you can't ignore it. That's the mistake a lot of athletes make."
It's still not completely clear exactly how much of sporting success is down to mental strength and how much is the result of physical prowess. But even in sports traditionally sceptical of a more scientific approach, psychologists now stand side by side with physical trainers and coaches.
Dr Robin Jackson, a sport psychologist based at Brunel University, said coaches had been using psychology for years to get the best out of athletes and players. Now it is just more formalised.
"The image of it was like clinical psychology, with someone sitting on the couch listening to the athlete. The impression was that if you were speaking to a sport psychologist then there was something wrong with you," Dr Jackson said. "That perception has changed."
In the run-up to this summer's Olympics, British athletes have had more access to psychological support than ever before.
Kate Goodger, from the English Institute of Sport, said psychologists had been embedded with competitors and teams and, as well as typical psychological training, are helping the athletes prepare to deal with all the distractions that will inevitably occur at a home Olympics.
The additional support could help provide a winning edge for the likes of the heptathlete Jessica Ennis and cyclist Sir Chris Hoy, who go into the Games as favourites to win their events.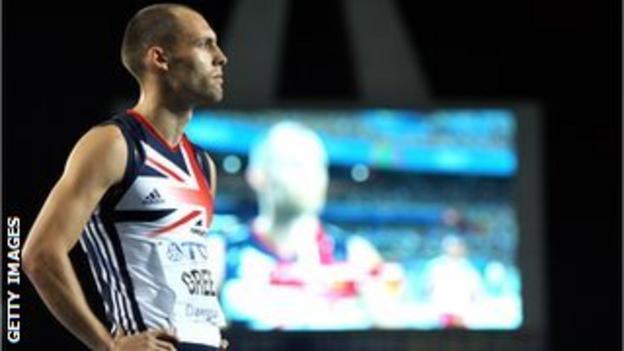 Another British medal hope, 400m hurdler Dai Greene, acknowledges that mental strength is what can separate winners and losers at big competitions.
"Pressure is always there before competition and even during. There's a lot of expectation with the home Olympic Games," Greene said.
"But you're just trying not to think about that and concentrate on what you can control, and what I can control is how much effort I put into training every day.
"If I train really hard, then I'll have the confidence when I step on the start line and that helps me deal with the expectation and the pressure."
Greene also visualises himself running the race before he steps up to the start line.
It's the same technique Johnson used when he went into the Atlanta Games as hot favourite.
On the starting blocks waiting for the starter pistol, jaw clenched, staring straight down lane four, he had already run the race hundreds of times even before pulling on his famous gold running spikes.
"One of the main techniques I used was focusing on the goal and visualising myself competing in the race before the race started," Johnson said.
"The mind is absolutely instrumental in achieving results, even for athletes. Sports psychology is a very small part but it's extremely important when you're winning and losing races by hundreds and even thousands of a second."
Johnson said that just as he had to train his body to be able to physically compete, he also had to train his mind to be disciplined and strategic before a race.
"Before the race, if I'm starting to spiral down some negative thought, I've trained my mind to recognise that immediately and be able to make the adjustment to stop thinking about that," he said.
Whether a clear favourite has buckled under the weight of expectation, or an underdog has collapsed just as they were on the verge of winning, mental failure in sports has coloured the careers of entire teams as well as individual competitors.
French golfer Jean van de Velde provided one of the most famous examples of a sportsman grabbing defeat from the jaws of victory. He needed to complete the final-round par four 18th hole in six shots or fewer to be crowned 1999 British Open champion at Carnoustie.
And with the engraver already carving his name into the Claret Jug, he had a disastrous approach to the hole, punctuated with poor decisions, which included removing his shoes and socks to step into the Barry Burn to hit his ball, resulting in a play-off and eventual victory for Paul Lawrie.
Psychological techniques like visualisation, mental rehearsal and training under pressure might have helped sportsmen like Van de Velde. But, Dr Jackson said, they are also practical steps that can help people in everyday life when faced with high-pressure situations, like job interviews.
"Everybody is aware that their mental state impacts on how they do anything," Dr Jackson said. "When margins are tiny, people need to be able to control their emotions."
That control was something that Johnson had worked on long before the 400m final in Atlanta.
"Some people are motivated by more pressure, some people perform better under pressure and some people don't," he said.
"I think it's important first and foremost for an individual to understand themselves and be honest with themselves in that way and then start to make the adjustment and develop a strategy for how you will achieve success.
"The most important thing is focusing on yourself. You can't control what the other athlete is going to do, you can't control anything except for your competition and how you execute the race or how you execute the task."
Johnson was a picture of focus and control before and during that race in Atlanta.
And as he rounded the final bend, leaving his competitors in his wake, he crossed the finishing line in the fourth fastest 400m of all time.
It was only after the race that he let his emotions out. Standing on the podium, with the American national anthem playing, a tear rolled down his cheek. He was an Olympic gold medallist.