London 2012: Great Britain announce men's basketball squad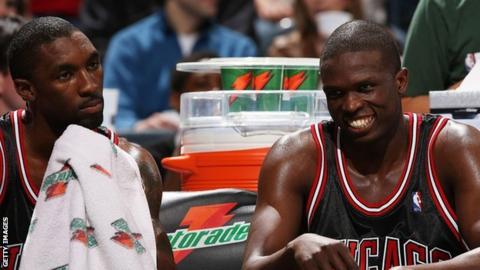 NBA players Ben Gordon, Byron Mullens and Luol Deng have been included in Great Britain's 21-man provisional men's squad for the Olympics.
US-raised Gordon and Ohio-born Mullens, who play for the Detroit Pistons and the Charlotte Bobcats respectively, have yet to play for GB.
Chicago Bulls forward Deng, a GB regular, is also included in the squad.
Coach Chris Finch will reduce the group to 16 in May and then make a final cut to 12 at the start of July.
Finch said: "We have the potential for a world-class team who will surprise a few people this summer.
"The commitment from all our players to the programme once again is great and it's also good to see our strength and depth continuing to increase year on year."
Preliminary squad (including club and nation): Kieron Achara (Manresa (Spain)/Scotland), Ogo Adegboye (Apoel Nicosia (Cyprus)/England), Robert Archibald (Zaragoza (Spain)/Scotland), Eric Boateng (Peristeri (Greece)/ England), Matthew Bryan-Amaning (Hacettepe (Turkey)/England), Dan Clark (Estudiantes (Spain)/England), Luol Deng (Chicago Bulls (USA)/England), Joel Freeland (Malaga (Spain)/England), Ben Gordon (Detroit Pistons (USA)/England), Kyle Johnson (Apoel Nicosia (Cyprus)/England), Andrew Lawrence (College of Charleston (USA)/England), Mike Lenzly (Nymburk (Czech Republic)/England), Alex Marcotullio (Northwestern College/Scotland), Pops Mensah-Bonsu (Besiktas (Turkey)/England), Byron Mullens (Charlotte Bobcats (USA)/England), Sullivan Phillips (Prievidza (Slovakia)/England), Nate Reinking (Sheffield/England), Ryan Richards (unattached/England), Ovie Soko (University of Alabama (USA)/England), Andrew Sullivan (Leicester/England), Devon van Oostrum (Tarragona (Spain)/England).