Lionel Price on GB's first Olympic basketball tournament in 1948
Last updated on .From the section Olympics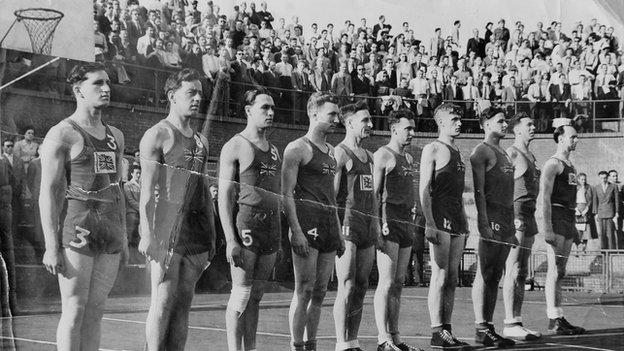 Luol Deng might be on the verge of making himself a British Olympic legend this summer but, until 28 July, one of GB's few surviving basketball Olympians is an 85-year-old walking archive of stories from the 1948 Games.
Lionel Price was the youngest member of the nation's first Olympic basketball squad and, along with 1992 USA Dream Team legend Clyde Drexler, he all but stole the show at a recent appearance alongside current GB players Drew Sullivan and Lauren Thomas-Johnson.
"My main claim to fame is not athleticism but longevity," joked the Londoner.
At one point, a reporter suggested to the passing Drexler that the old guy could probably still give him a game.
"Of checkers, perhaps," cracked the now-retired American, prompting a laugh from both men.
Price has watched the Olympics, basketball and sport in general change from proud amateurism to ultra-professionalism in the years since he first represented his country.
"In those days we paid our own expenses and bought our own kit," he explained. "In the stadium at Wembley there was a sign with the Baron De Coubertin quote saying, 'It's not the winning and losing that counts - it's the taking part.'
"Nowadays it's all about the winning and losing - the rest doesn't matter, so the whole spirit of the Olympic Games is not the same. It makes me sad to a certain degree but I'm old-fashioned.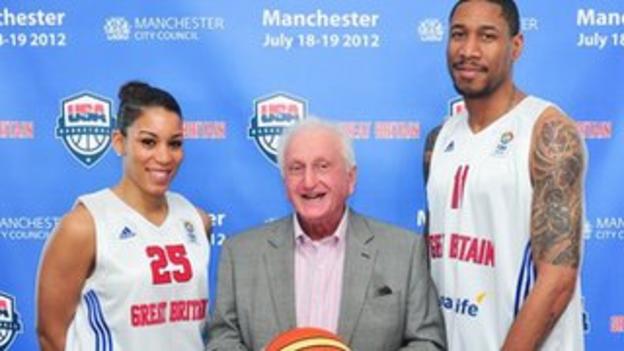 "But the level of competence and ability is better. If you didn't have the degree of commercialism, there wouldn't be a Usain Bolt getting paid through sponsorship."
De Coubertin's noble words hopefully were some comfort for the 1948 British basketball team, because the results were not good.
Their solitary win in eight outings (over Ireland) was heavily outweighed by a defeat to Uruguay (by 52 points) and a 76-11 thrashing at the hands of bronze medallists Brazil.
Surrounded by the current generation of GB internationals, one difference between the modern game and Price's era was quickly apparent - at 5ft 10in, even Thomas-Johnson had a couple of inches on him.
"We weren't a basketball nation," said Price. "The tallest bloke we had was about 6ft 2in. It didn't matter."
To put that into context, GB's team at last summer's Eurobasket finals in Lithuania had an average height of 6ft 6in, with three players 6ft 10in or taller, so modern basketball is a bigger game in just about every way.
"Oh, there's no comparison to the modern game," said Price. "Here they're professionals, they play seven days a week together. I was training to be a chartered accountant at the time.
"I used to go to work at nine o'clock in the morning, came home at half past five at night, had a bite to eat and then went to the gym," he recalled, admitting he also found the post-war West End and its theatres something of a distraction from his Olympic training regime.
"Anyway, it was just after the war - rationing was in force. The number of venues we could play in was limited."
Basketball might be an exclusively indoor sport now, but Price often played outdoors at that time and remembers the Olympic basketball venue itself as 'Austerity Britain' at its best.
"Haringey Arena was a dog track," he said. "They just put a wooden floor and some baskets up."
Any basketball fans hoping to make a pilgrimage to Haringey Arena will be disappointed - it lasted only another 10 years as a sporting venue and was completely demolished in 1978. There is now a shopping centre on the site.
And there was no multinational sports brand providing kit in 1948.
"What I got from the Olympic Games was a blazer, a tracksuit, one singlet - we played six games in the same singlet - one pair of shorts and a beret, which I swapped for an American Panama hat. It's still there with the American badge on it.
"Must be worth a bit of money now, I would have thought…"