London 2012: Great Britain lost cycling home advantage, says rival

By Ollie Williams
BBC Olympic sports reporter
Last updated on .From the section Olympics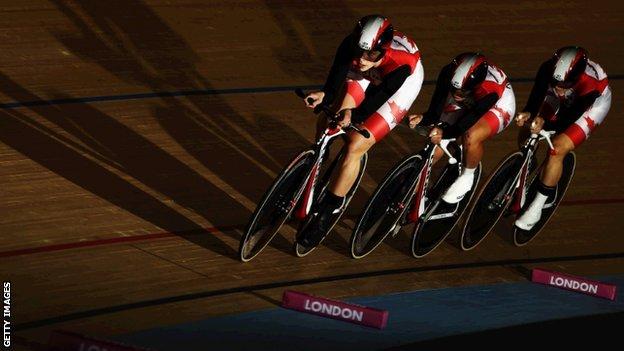 Britain's track cyclists lost their home advantage by hosting a major international event at the Olympic Velodrome, according to rivals Canada.
February's Track World Cup exposed cyclists from all nations to the new track and the noise of a home crowd.
"We were very surprised to get that chance," Canadian coach Richard Wooles told BBC Sport.
"We felt like it was such a great opportunity to get an edge up. We've been very fortunate."
Canada's Zach Bell picked up bronze in the omnium on the London Olympic track at that event, while the British women's pursuit team needed a world record to defeat their Canadian counterparts for gold.
Last week, at the World Championships in Melbourne, both Bell and the women's pursuit trio were again medallists for Canada. Another top Canadian cyclist, Tara Whitten, is expected to challenge Britain's Laura Trott in the women's omnium at the Games.
In the run-up to the Track World Cup in London, which doubled as the Olympic test event for the venue, British performance director Dave Brailsford made his discomfort at staging the event known.
"I'm a little bit miffed, if I'm honest, to have a full-blown World Cup as a test event when a lot of the other venues are using national championships," Brailsford told BBC Radio 5 live late last year.
"We're basically inviting the rest of the world in to look at the nuances of the Olympic track. I'd prefer we didn't do it."
Wooles, who grew up in Britain and spent time as part of the British track cycling programme before taking up his post with the Canadian national squad, said experiencing the atmosphere was as important as the track.
"I was blown away by London, the Olympic venue, the volume of noise and everything else that went around it," said Wooles, speaking in Melbourne at the conclusion of the World Championships.
"I thought they'd go down the road of a national championships - like we did in Canada for the Winter Olympics, when you could only come into the venues as they opened.
"I think it was a disadvantage to Britain but a very big advantage for us to be able to go there. We built our last 18 months around that one event.
"As soon as we found out, we put over 80% of our resources into the London World Cup. We have five or six staff here in Melbourne but we took 10 or 12 to London, which is big for us. It was a great advantage and worth every dollar we spent."
Brailsford told 5 live he believed the decision to stage a World Cup as a test event lay with Olympic organisers Locog and cycling world governing body the UCI.
Britain finished second to Australia in last week's medal table at the World Championships, although GB were top based solely on the 10 events which make up this year's Olympic programme, winning five of a possible 10 gold medals.