GB captain Drew Sullivan on discovering basketball by chance
By Jessica Creighton
Olympic sports reporter
Last updated on .From the section Olympics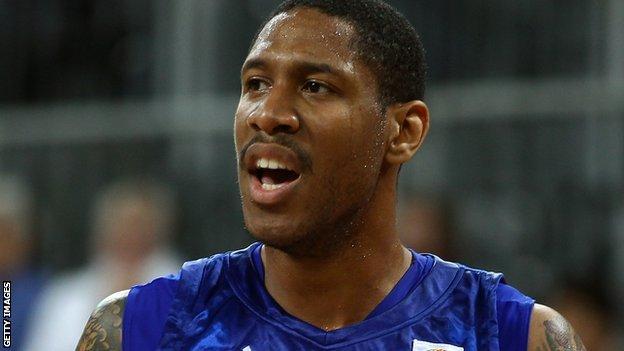 In July, barring any late hiccups, Drew Sullivan will lead the British basketball team into its greatest test yet - an Olympic competition.
The 32-year-old has been a pillar of GB Basketball since the squad was first built in 2006 in readiness for London 2012.
But just days after being confirmed as the captain of the British basketball team for the sixth straight year, he reveals: "I got into basketball purely by accident. I used to run the 100 and 200 metres.
"I was at a track meet in 1993, running the third leg of the 4x100. I slipped, dislocated my hip and tore my hamstring. It was pretty devastating."
Months of rehabilitation followed before a teenage Sullivan could even begin to walk again. "I remember I went through two or three pairs of shoes because of the way I was walking, my shoes were wearing down at a funny angle from the injury."
Not long afterwards, a chance meeting with some boys playing basketball in a London park led to Sullivan attending a session with highly regarded coach Joe White in Hackney.
Fast-forward two decades and Sullivan has travelled to the Netherlands, Russia and Spain as a professional basketball player, and led Britain to their first European Championships in 2009.
It was six years ago that Sullivan was awarded the honour of leading his country, although the announcement was anything but a grand affair.
"It was typical Chris Finch [head coach]," says Sullivan. "For me it was a huge announcement, but he slipped it in under the radar.
"We had played a game in Germany and he was giving player assessments. He said: 'Drew, what do you think? After all, you are the captain...' And that was it. That's how I found out.
"There wasn't any chance to be excited about it. People might think it's quite an underwhelming experience but, looking back at it, I think it was extremely fitting. It suited my personality."
The Leicester Riders player admits to being one of the more laid-back characters in the squad, despite his high-ranking credentials.
"Although I'm captain officially, we have players like Pops [Mensah-Bonsu] and Luol [Deng] who are leaders," he says. "They make my job really easy.
"Pops is probably the most vocal of the three of us. He will say a lot of motivational stuff before a game and get the guys going. If there's a player that needs a little word in their ear, Luol is good at that.
"I've learned you don't have to be captain by talking or shouting all the time. There are times when you just need to play hard so I largely lead by example."
When Saturday 28 July arrives and Sullivan leads Britain onto court for their opening fixture of the Games in front of home fans, friends and family, he believes it will be their best team yet.
"It's the year of the Olympics and we've got the strongest squad we've ever had. It's great the way the national team has improved year in, year out. I think they've [British Basketball] done an extremely good job of building a team and building a programme. We're like a family."
It was all so different when a young Sullivan first took to the sport. "At that point there was no Great Britain team, no publicity for basketball and nobody to look up to or aspire to be like. Everything I was doing was because I purely enjoyed the sport."
It's different now, with the likes of NBA star Luol Deng and Sullivan himself to inspire young Britons - including Sullivan's four-year-old daughter.
"She keeps on telling me: 'I want to be a basketball player like you daddy.' I say: 'No. If you want to be a basketball player, you're going to be better than daddy, I'm sure.
"She dribbles with both hands without looking at the ball. But that's not the impressive thing, she's doing stuff with a basketball the 12-year-olds I coach struggle with."