London 2012: India's shooting star is one in a billion
By Paul I Harris
BBC World Olympic Dreams
Last updated on .From the section World Olympic Dreams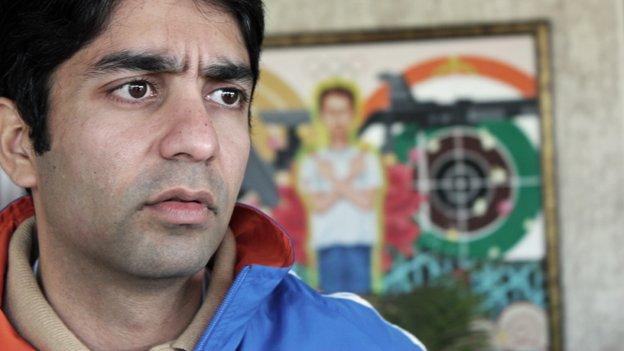 "I was a little boy and I didn't really know what I was doing and so I did a few naughty things."
The image of a 10-year-old shooting balloons and bottles off the head of his maid is a distressing one but thankfully that boy was talented enough to become one of the finest marksmen in world shooting.
This weekend air rifle shooter Abhinav Bindra is in London for the Olympic shooting test event being held at the historic Royal Artillery Barracks.
As an Indian Olympic champion, Bindra is literally one in a billion - with a population of some 1.2 billion, India has produced no other gold medallist in an individual event.
He hails from Chandigarh, a city that if it wasn't for the neon-coloured turbans and rickshaws darting through traffic, could be any town in the UK.
The city is India's first 'planned' city. It was designed by the renowned French-Swiss architect Le Corbusier and is constructed on a grid system with roundabouts and wide leafy boulevards designed to ensure efficient traffic circulation.
This attention to detail is echoed by Chandigarh's feted champion.
Bindra's preparations for the Beijing Olympics would startle most psychologists. He admits he once bought yak's milk from China, believing that it could enhance concentration. It did not.
He once spent 20 days experimenting with a single pair of his shooting shoes before concluding that the sole on one needed to be just 1mm higher than the other.
Perhaps it is no surprise, when you consider the tiny margin for error.
The chance to win Olympic gold comes every four years; 70 shots in 125 minutes - targeting, from a distance of 10 metres, a bullseye that measures 0.5 millimetres wide.
That is a target smaller than the head of a pin and certainly not visible to the naked eye from such a distance.
Other lengths he ventured to include the removal of "love handles" by injecting a lipo-dissolving solution into his hip; dry firing in a darkened room and replicating the floor, panelling and lights of the Beijing range at his home.
When challenged, Bindra freely concludes: "Yes, it's a very addictive sport and my personality is a little obsessive so yes I am quite obsessed."
If this level of intense focus is a determining factor of success, why then has India not won more Olympic medals?
Bindra offers a cultural explanation, arguing: "Parents would much rather see their kids spend the same amount of time studying rather than going out and playing."
Indian sport is synonymous with cricket and Bindra goes on to lament the lack of attention to other disciplines.
"I think sport's just not well organised in this country at the grassroots level," he says.
"I think we have a lot of talent but that talent is not nurtured at the right time… We have a lot of catching up to do when we compare our programme to programmes of, say, America or, say, China."
Bindra's lack of faith in the administrators of Indian sport is an intriguing aspect of Bindra's mindset. His very public disputes with the National Rifle Association of India are well documented in his home land and it is not too difficult to see why.
At the age of just 13, Bindra smashed the world record.
At the time, the world record stood at 597/600 and was achieved by an Austrian shooter at the World Shooting Championships in 1996. A few months later, Bindra entered a local competition and secured a perfect score - a bullseye with each of his 60 shots.
Unfortunately, the competition was not formally recognised by world shooting's governing body and the record didn't stand. Not that anyone could believe a 13 year old was capable of achieving such a feat as it turned out.
Fast forward to November of that year and another shooting competition in India - the All India G.V. Mavlankar Shooting Championships - a qualifying event for the national championships.
Again, Bindra shoots a perfect 400/400 but again, the score fails to elicit any recognition from the officials. According to Bindra, they refused to accept the score and left a blank by his name on the scoreboard.
In a chapter of his autobiography entitled "Mr Indian official: Thanks for nothing", he catalogues his frustrations with the administrators of his sport.
It culminates with an incident in which he is sent a pair of shoes before the Beijing Games. Sadly, the left was a size 11, the right a size 8.
His sporting federation may not have been there to support Bindra but his privileged upbringing may have have offered some compensation. At the luxurious homestead where he lives with his parents, Bindra has constructed a few additional features - a gymnasium and his own shooting range.
As we head from the range to the verandah for tea a small unit of gardeners can be glimpsed crouching among and attending to the numerous flowerbeds around the swimming pool from which sharp rays of light shoot back.
In a nation struggling to overcome great economic inequality, the house is unusually opulent but any inference that success can be bought angers the shooter.
"I've been privileged in that aspect that I've been able to do whatever I wanted to do but at the end of the day you can't buy sweat or hard work," he says.
"You have to put in that amount of time and that amount of work to achieve success."
Bindra is not just one in a billion - his success embodies a unique confluence of factors. Bindra concedes that he does not need to work, he does not need to do anything.
It is fortunate then that in a country where investment in Olympic sport is limited, Bindra has the resources to compliment his obsessive, DIY habit.