London 2012: Olympic sport this week
Last updated on .From the section Olympics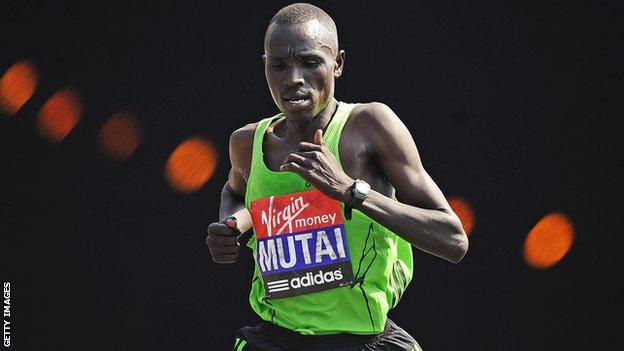 MAJOR EVENTS THIS WEEK
ATHLETICS - London Marathon (22 April); there is added incentive for elite runners this year with Olympic places up for grabs. Great Britain's Scott Overall, Paula Radcliffe and Mara Yamauchi were named by UK selectors in December, leaving just two slots available in the men's squad and one in the women's. Last year's London Marathon winner, Emmanuel Mutai (pictured above), is hoping to earn a place in Kenya's extremely competitive three-man Olympic team. The Olympic qualifying standard is 2:12.00 for men and 2:31.00 for women. Live coverage on BBC One HD and BBC Radio 5 Live from 0830 BST.
BOXING - European Olympic qualifying tournament, Trabzon, Turkey (14-22 April); Great Britain have selected a team of seven, covering all five of the weight categories where Olympic places are still available. Among those hoping to secure an Olympic spot is middleweight Anthony Ogogo, and lightweight Sam Maxwell who stunned former world champion Albert Selimov of Russia in his opening bout on Sunday. You can view the full GB team here.
BADMINTON - European Championships, Karlskrona, Sweden (16-20 April); the battle for Olympic selection continues, with Britain's mixed doubles world silver medallists Chris Adcock and Imogen Bankier scheduled to meet rivals Nathan Robertson and Jenny Wallwork in the quarter-finals. You can read the BBC's full preview here.
SHOOTING - ISSF Shooting World Cup, Royal Artillery Barracks, London (18-28 April); the London 2012 test event will feature all 15 Olympic shooting events and more than 800 competitors, including Great Britain's world-record holder in the double trap, Peter Wilson.Watch live coverage on the ISSF's Shooting Sport channel.
SYNCHRONISED SWIMMING - Olympic qualification tournament, London (18-22 April); doubling as a test event in the new Olympic Aquatics Centre, this qualification tournament sees the likes of Russia, Spain and Japan competing for three remaining Olympic places. Also competing are the Great Britain team, who have already been granted an Olympic host place. Follow Jenna Randall on Twitter.
DIVING - FINA World Series, Tijuana, Mexico (20-21 April); fresh from another World Series silver medal in last week's individual 10m platform in Moscow, Tom Daley aims to finish on a high in this final leg of the 2012 World Series. Follow Tom Daley on Twitter.
CYCLING (ROAD) - La Flèche Wallonne Femmes, Belgium (18 April); defending champion Marianne Vos of the Netherlands is targeting a record fifth victory in this race, which has been extended to 123km this year. Great Britain's Olympic champion Nicole Cooke is among those hoping to end her run. Follow Marianne Vos and Nicole Cooke on Twitter.
SAILING - ISAF World Cup, Hyeres, France (21-27 April); the fourth regatta in this season's World Cup. Britain's team includes Olympic champions in the Star class, Iain Percy and Andrew Simpson, who just missed out on gold at the last regatta in Palma earlier this month. Follow Iain Percy on Twitter.
MODERN PENTATHLON - World Cup, Rostov, Russia (19-22 April); another important weekend for GB's Olympic hopefuls, because the results from this year's World Cups determine the British team for May's World Championships - the next opportunity for athletes to achieve the Olympic qualifying standard. Samantha Murray will be hoping to follow up her fourth place in Hungary last weekend. Follow Samantha Murray on Twitter.
ARCHERY - GB Olympic selection shoot, Lilleshall, Shropshire (19-21 April); the third and final selection shoot sees four archers chasing three places in both the men's and women's tournaments at the Games. Among those in contention is Alison Williamson, who is hoping to appear at her sixth Olympics.
WRESTLING - European Olympic qualification tournament, Sofia, Bulgaria (18-22 April); Great Britain has been granted three host places at London 2012 but there is the chance to earn an extra place with a strong showing in Bulgaria. The GB team is Oleksandr Madyarchyk, Philip Roberts, Nate Ackerman, Leon Rattigan and Sarah Connolly. Follow Sarah Connolly on Twitter.
LAST WEEK'S HIGHLIGHTS
Silver for GB's world triathlon champion Helen Jenkins in Sydney; Beijing silver medallist David Florence leads GB's 2012 canoe slalom team; below-par Paula Radcliffe struggles in Vienna; Tom Daley earns a place on the podium again.
TRIATHLON
Britain's Helen Jenkins finished second in the opening round of the World Triathlon Series in Sydney.
The reigning world champion was beaten by Australia's Erin Densham, who won with a time of 2hr 1min 29sec.
William Clarke was the top British finisher in the men's race, coming in eighth, 38 seconds behind winner Steffen Justus of Germany.
Great Britain's triathlon world champion Alistair Brownlee and his brother Jonny did not participate in the men's event.
CANOE SLALOM
Beijing 2008 silver medallist David Florence will lead a British team of five slalom canoeists at London 2012.
Florence, 29, won two of the best-of-three selection races in the men's C1 (one-man canoe) category on the Olympic course at Lee Valley.
He has also earned a place in the two-man C2 boat alongside Richard Hounslow.
Hounslow beat Athens silver medallist Campbell Walsh to selection in the K1 one-man kayak, with Lizzie Neave winning the place in the women's K1.
CANOE SPRINT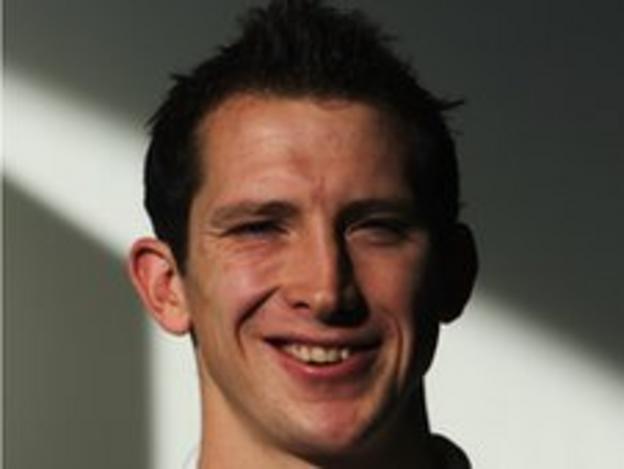 Ed McKeever, Jon Schofield and Liam Heath will paddle for Team GB at London 2012 after winning races at the British sprint canoe squad's national regatta.
McKeever will race in the men's K1 (one-man kayak) 200m event, with Heath and Schofield in the two-man discipline over the same distance.
The three world silver medallists are the first sprint racers to be selected.
Meanwhile, Beijing 2008 Olympic champion Tim Brabants beat rival Paul Wycherley in the first of three race-offs.
ATHLETICS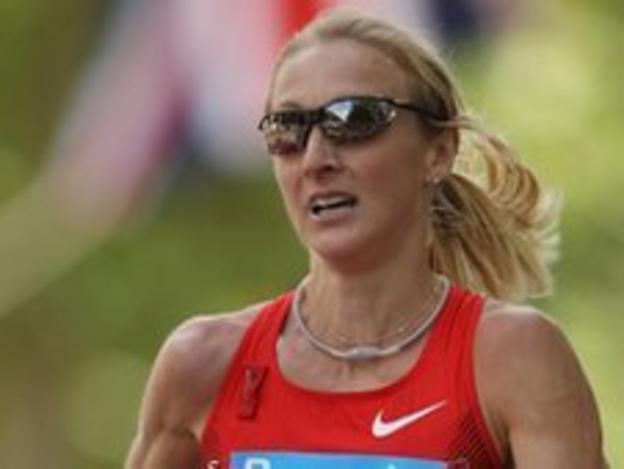 Haile Gebrselassie beat a below-par Paula Radcliffe in Sunday's head-to-head half marathon in Vienna.
The Briton had targeted a time below 70 minutes in the "Emperor versus the Queen" race but ended with a time of 1 hour 12 min 03sec, more than 11 minutes behind the Ethiopian.
"I am at a loss to explain why it was quite so bad. I still would have expected and hoped for a time in the 69s," she told BBC Radio 5 live.
Asked if she was worried about her Olympic chances, she added: "I'm not giving up on it by any means."
DIVING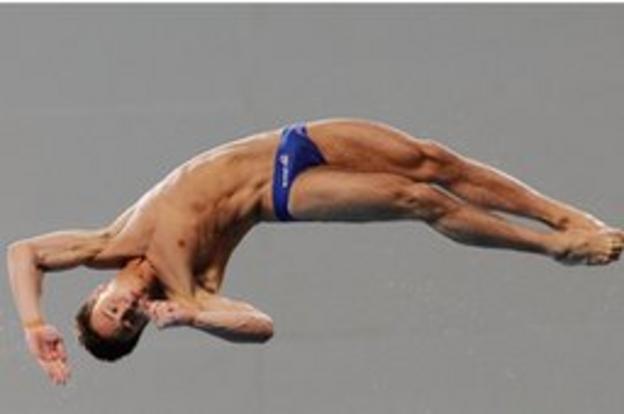 Tom Daley continued his recent revival with a third successive World Series silver medal in the 10 metre platform in Moscow.
The 17-year-old produced a gritty rather than spectacular display in the absence of China's world champion Qiu Bo, his 520.95 points putting him behind Lin Yue of China.
Daley had earlier finished a disappointing fifth in the 10m platform synchronised competition alongside Peter Waterfield.
Olympic test event bronze medallists Tonia Couch and Sarah Barrow were sixth in the women's 10m synchronised competition.
WEIGHTLIFTING
Commonwealth bronze medallist Zoe Smith is one step closer to qualifying for London 2012 after attaining the Olympic 'A' standard at the European Championships in Turkey.
Smith, 17, totalled 208kg, beating her personal best by four kilograms, but narrowly missed out on a podium finish.
"I'm over the moon to have smashed the 'A' standard," said Smith, who was just three kilograms short of bronze and seven away from winner Boyanka Kostova.
ARCHERY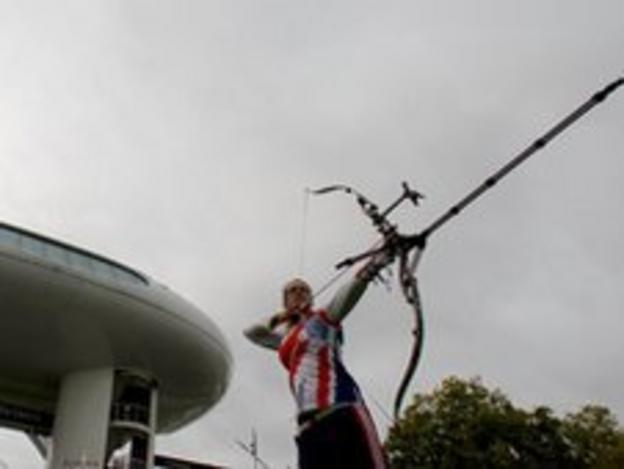 Alison Williamson remains on course for a sixth successive appearance at the Olympic Games after progressing to this week's third and final British selection shoot.
The Athens 2004 bronze medallist currently lies in third place behind leader Naomi Folkard and Amy Oliver, with three Olympic places available. Charlotte Burgess completes the women's finalists having just pipped Nicky Hunt by 20 points.
Larry Godfrey, Simon Terry, Alan Wills and Michael Peart will battle for the three places in the men's event.
Elsewhere, the individual events at the first World Cup meeting of the year in Shanghai were won by defending champions Brady Ellison and Ki Bo Bae.