Email, text or a call? Finding out if you're going to the Games
By Ollie Williams
BBC Sport Olympics reporter
Last updated on .From the section Olympics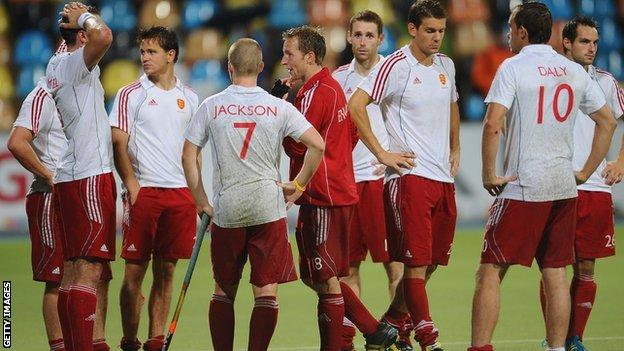 Next month, almost half of the 60 or so men and women in Britain's Olympic hockey squads will be dropped.
Only 16 per gender can go to the Games, plus a couple of reserves. The players have spent months steeling themselves for the news. Their coaches have had almost four years to agonise over who stays, and who goes.
But how do you find out if your name is on the list for London 2012? That's now a decision in itself, because the players have been given a choice: a phone call, a text message, an email or a face-to-face meeting with their coach.
Which of those would you pick? A selection of GB players tell BBC Sport which option they have chosen, and why.
Helen Richardson
Midfielder, 30. Considered playmaker and engine room of the British women's team with more than a decade's international experience. On Twitter: @h_richardson8
We decided, as a team, that email was the option we wanted. At 0800 on whichever day it is, we'll go to our emails, check, and pray our name is on that list.
Email gives you a chance to compose yourself - if you're getting bad news, then you don't break down in front of the coach. But it's still awful - every time.
We joke about pressing refresh, refresh, refresh and that email is never quite there. You get that feeling in the pit of your stomach: "Please... please, let me be on that list."
This is a difficult period and it needs to be spoken about, so we had a really good meeting a couple of weeks ago to talk about all the issues and not stick them under the carpet.
I remember selection for the Sydney 2000 Olympics. We were on a training camp in Barcelona, we were all made to sit in a room, and the coach read out the names of those who had been selected: by surname, in alphabetical order.
Only two people in the room were not selected. But, because you are so focused on listening for your own name - "Richardson, Richardson, please say Richardson" - you don't take in anybody else's name. Once it's finished you're looking around and wondering, well, who's in and who's out? That was a difficult situation.
Kate Walsh
Defender, 31. Captain of the British women's team and drag-flick specialist from penalty corners, which are hockey's main set pieces. On Twitter: @katewalsh11
That meeting before the Sydney Olympics was so hard. After having the team read out in the room, we had to get on a flight home together. All I can remember is how quiet it was. People sitting by themselves, trying to take it in.
Now, the email system means you can choose where you are when you get it: whether you want to be with family, by yourself at home, or somewhere else. It's in your hands.
The meeting we had two weeks ago really cleared the air. Just prior to that, we'd started to get a bit of tension in training with selection around the corner. Yes, we're going to have that period where it's extremely hard for people who don't get in, but we're still all in it together.
Harry Martin
Midfielder, 19. The youngest player in the British men's squad, having made his debut in 2010. On Twitter: @harrymartin_9
I haven't made my decision yet. In the past I've always gone with a text, and that's been alright for me so far - I've been selected each time! - so I might stick with that.
It's hard to know how you're going to react. It's easy to say things now, but you don't know how you're going to feel on the day.
Mark Pearn
Forward, 35. The oldest player in the British men's squad, Pearn made his England debut in 1995. On Twitter: @markpearn3
Well, as a 19-year-old, what else is Harry going to go for except a text? Twitter, maybe?
Last year, ahead of the European Championships, I asked for it to be a phone call. For the Champions Trophy later that year, I went for email. It depends where I'm going to be.
The first time I went through this was for the Atlanta 1996 Olympics, when I was only 18 or 19. Back then it was a face-to-face meeting with the coach.
I was told I was a reserve but, as a youngster, you can always look forward to other opportunities. This time around, it's very unlikely that as a 39-year-old I'll be making a return for Rio. This one is a bit more final.
Danny Kerry
Coach of the GB women's team since 2004, leading them to their first major international final in the 2012 Champions Trophy two months ago.
You would think everyone wants to find out face-to-face because that's the public perception of how someone should be told, but you're giving them news they want to digest and react to. What they probably don't want is their coach sitting in their face at the time.
So we asked the squad: how do you want to find out? And the interesting thing is the incredible detail they went into about that at the last meeting.
It wasn't just that they wanted an email at a certain time, it was how the email came. It has now been agreed that on selection day, the email will come from my fingertips at 0800. There will be no attachment, it must be written in the body of the email, because they don't like opening attachments on their phones.
That may sound trivial but it's critical that you get those things right. Those athletes who haven't been selected are still needed, they're still important to performance, and it sustains our environment to make them feel valued and understand that we're trying to be caring and supportive.
It also means we carry those who have been selected and they feel the whole squad's behind them. It's not just about the niceties of selection, it's a key performance thing and you've got to get it right.