London 2012: Olga Kharlan's road to the Olympics
Last updated on .From the section World Olympic Dreams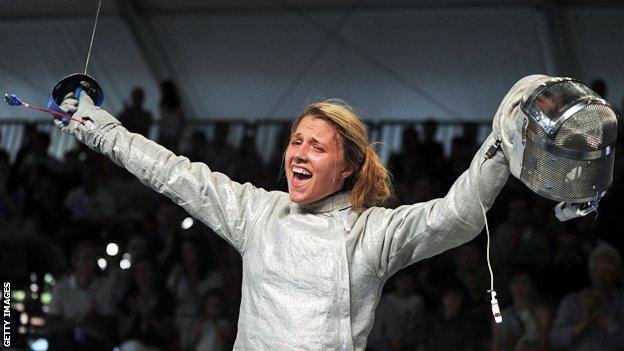 LATEST NEWS - 2012
Wed 01 Aug 12: Ukrainian fencer Olga Kharlan won bronze at the London Olympics, beating Mariel Zagunis of the United States 15-10.
Fri 22 Jun 12: Olga Kharlan claimed gold at the Chicago World Cup.
Sat 16 Jun 12: Olga Kharlan has defended her European title.
She defeated Greece's Vassiliki Vougiouka 15-14 in the women's sabre final at the European Fencing Championships in Legano, Italy.
Mon 02 Apr 12: Olga Kharlan is a step closer to London 2012 after finishing third in the Olympic qualification rankings.
Ukraine will need to formally select Olga to compete but she has effectively qualified for the London Games.
LATEST NEWS - 2011
Sat 15 Oct 11: Olga Kharlan came away from the World Fencing Championships with one silver and a bronze medal.
The sabre specialist won individual bronze and helped Ukraine to silver in the team event at the tournament in Catania, Italy.
Thu 14 Jul 11: Olga Kharlan is the 2011 European sabre champion.
She beat Poland's Aleksandra Socha 15-10 to claim the women's title at the European Fencing Championships in Sheffield.
"Every competition this year is very important, and the Euros are one of those important events. I prepared hard for these championships as they're really important for Olympic qualification," Olga told the BBC.
"I'd love to get two golds at the World Championships. We're going to do some serious training for the World Championships in Italy - our two training camps are also in Italy. I've got a feeling it's going to be a good one."
Fri 08 Jul 11:Olga Kharlan has told World Olympic Dreams how fencing has changed her life.
"I have got a lot for my age," she admitted. "My grandfather says I already have what they didn't manage to get in their whole lifetime, but I will keep striving for more".
Sun 13 Mar 11: Olga defeated compatriot Olena Khomrova 15-8 to take gold at the Sabre World Cup in Istanbul.
Sat 26 Feb 11: Olga beat Italy's Gioia Marzocca 15-11 to win the Sabre World Cup in London.
LATEST NEWS - 2010
Wed 17 Nov 10: For the second week in a row Olga lost to Mariel Zagunis, this time at the Fencing Masters NYC event.
Thu 11 Nov 10: Olga was part of the Ukrainian team that won silver in the team sabre event at the World Fencing Championships.
The Olympic champions defeated Spain (45-32), Italy (45-38) and France (45-34) but were beaten 45-33 by Russia in the final.
Sat 06 Nov 10: Olga Kharlan has won silver in the women's sabre event at the World Fencing Championships in Paris.
She beat Irene Vecchi (15-6), Sophia Velikaia (15-9) but lost to the reigning Olympic and world champion Mariel Zagunis 15-11 in the final.