Ukraine's fencing pin-up Olga Kharlan makes her point
By Ollie Williams
BBC Olympic sports reporter
Last updated on .From the section World Olympic Dreams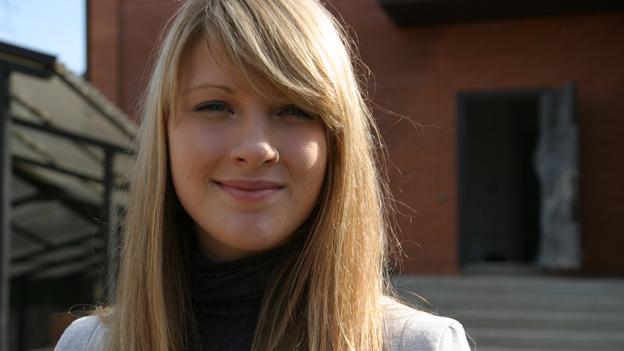 "I still don't realise I'm a sports star."
In most people's books, Olga Kharlan would not be one. But, while fencing struggles to find an audience in many countries, the sabre specialist helped it onto the Ukrainian front pages with one of the most memorable displays of the Beijing Games.
Kharlan, in a three-woman sabre team alongside Olha Zhovnir and Olena Khomrova, faced a Chinese team in the final of the competition, midway through a Games where the host nation were wrapping up almost every medal they were expected to win.
Backed vociferously by their home crowd, the Chinese trio started well and raced to a 25-15 advantage (the first to 45 points wins in team sabre fencing).
But Kharlan fought back, leading the way as Ukraine hauled themselves back into the tie, restoring the score to 40-36, then 44-44 and a deciding point.
Kharlan and China's Tan Xue both lunged at the same time and both screamed in victory, only for the match referee to demand the point be replayed having studied inconclusive video evidence.
The Ukrainian teenager held her nerve and landed the winning point, silencing the Chinese supporters and transforming her into a sensation back home.
"The huge desire we had to win prevented us from leading at the beginning," she explained to reporters afterwards.
"But after that we found we had nothing to lose, and gradually got on the right, relaxed path.
"I knew it was a pretty difficult situation, but I was very confident that I could win. I wasn't nervous - I fenced in a very relaxed, kind-of freestyle way."
It came as no surprise when Kharlan was duly named Ukraine's athlete of the year for 2008 but, unusually, she has maintained her status, picking up a similar honour for 2009.
In the year following Beijing, she helped her team add the world title to their Olympic honours, came second in her individual event, and won the European individual tournament, cementing her status as a top prospect for the London Olympics in 2012.
Fencing tries hard to shed its reputation as a sport accessible only to an elite but, for Kharlan, the opposite was the case.
"I started off dancing," she told the BBC earlier in 2010, "but I quit because of financial problems and took up fencing because it was free.
"My godfather (fencing coach Anatoly Shlikar) suggested fencing and took me to the centre for the first time. I've been fencing for 10 years now."
Kharlan, who counts spy flick Mr and Mrs Smith as her favourite movie, is no stranger to the glamorous side of Olympic sport.
Alongside team-mates Zhovnir and Khomrova and barely 18 years old, she took part in a revealing shoot for Ukrainian men's magazine XXL. That edition's front cover remains the top search result for her name.
But, where some Olympic gold medallists now enjoy celebrity status, Kharlan is once again immersed in the daily grind of training and preparation which she believes will deliver more medals at London 2012.
"We train hard for at least three hours a day, getting up early in the morning for a jog, then training, then personal lessons after lunch," she explains.
"When I get back to my room, I don't even have the strength to watch TV.
"Plus I'm often away for a long period of time (competing) and I sacrifice everything related to my parents and my family. I see them very rarely, but I speak to them on the phone or over the internet.
"But I'm dreaming of another Olympic medal at London 2012 and I will strive for that."