London 2012: Foxes attack shooting venue during test event

By Ollie Williams
BBC Sport at the Royal Artillery Barracks, Woolwich
Last updated on .From the section Olympics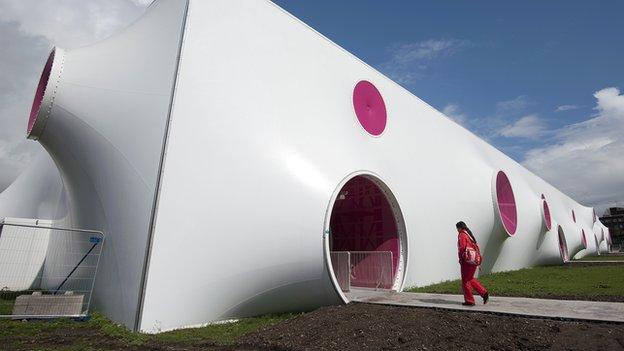 Foxes have damaged equipment during an Olympic shooting test event ahead of this summer's London Games.
The animals have chewed cables, wrecked microphones and soiled the podium area at the event, being held around the Royal Artillery Barracks in Woolwich.
They have evaded capture - or worse - even though more than 800 of the world's finest shooters are present.
"The place is inundated with them up here, I'm sure there's more than one," said organiser Peter Underhill.
Sydney 2000 Olympic champion Richard Faulds is among those who have spotted the foxes at work during the test event.
"We were dropping our guns off in the armoury when I caught something out of the corner of my eye. Ian, our coach, saw it full-on and he swears it was a fox," Faulds told BBC Sport.
"Rumour has it there was a little present left by the fox found in the indoor rifle range. It adds a bit of fun to the event. Most of the shooters are very fond of them."
Underhill, in charge of the shooting competition for Olympic organisers Locog, said: "They lived here before we created the venue so, at night, they're getting into some of our enclosures, going around and chewing things.
"They've chewed through some of our fibre optics and they've destroyed some of our microphones as well. We're taking natural precautions to cover up our equipment, to make sure the foxes don't have them all away and don't damage them all.
"We have to live with the foxes. We have guards here at night that go around and, if need be, shoo them away."
Asked if some of the athletes may resort to more familiar means to rid the venue of the local wildlife, Underhill said: "We are athletes first, so we're not after shooting animals. That's not what we're here to do, we shoot targets. In fact, most of the shooters have taken them to heart."
Faulds and British team-mate Peter Wilson, both attending the test event, are expected to form GB's best hope of a medal at London 2012 in the Olympic double trap discipline.
The Woolwich venue has proved controversial within the sport as it is temporary and will be pulled down after the Games, leading to accusations that the Olympics is not providing shooting with sufficient legacy.
"It's not just about bricks and mortar, it's about people and engaging with youth in particular, encouraging people into the sport," said Underhill.
"The plan is that some [of the venue's buildings] will go to Glasgow for the Commonwealth Games and there's a lot of work in the background to ensure we leave some legacy to the sport."
Faulds said: "Listen, we could go on forever about the legacy issue. It's sad for British Shooting that there's not going to be anything left afterwards, but the history of Olympic shooting venues is not great over the last 20 or 30 years.
"A lot of them have been run down - maintaining a venue this size costs an awful lot of money.
"What we've got here is a great opportunity to promote the sport in Britain to a whole new audience of people. If we can do well and win some medals, even better."