London 2012: GB Olympic synchronised swimming team praise home support
By Ed Sherry
BBC South at the National Aquatics Centre
Last updated on .From the section Olympics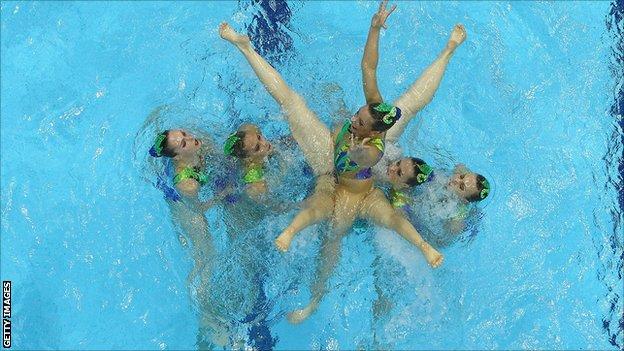 The Aldershot-based Great Britain synchronised swimming team have praised the home support they received at the London 2012 Olympic test event.
The team finished eighth after the team technical and consolidated that place after the free programme against a world-class field.
Straight after their swim, the team were quick to praise the home crowd.
"It was fantastic having the crowd here supporting us," GB's Jenna Randall told BBC South Today.
The British Olympic Association's director of elite performance Sir Clive Woodward was also in the crowd at the National Aquatics Centre in Stratford.
Woodward was impressed by their efforts and singled out national performance director Biz Price for praise with the Canadian having transformed British prospects since her appointment in 2007.
"It's the first time I've seen them in competition. I thought they were fantastic," said Woodward.
"I think the British team will perform really credibly, they were excellent and Biz Price has done a great job.
"When you go down to Aldershot you see how hard they train and they are real athletes.
"It's a captivating spectacle so I think the British public will love it. It's a great chance for synchronised swimming to establish itself.
"It will get a lot of media coverage, it's a great TV event and when you see it live the athleticism is wonderful. It's a great event and I think the girls will do us proud."
Randall, the triple Commonwealth silver medallist, added: "We've never heard a crowd that loud before, so it was really great to see the British support for synchro."
Katie Dawkins added: "It was just so loud, but you're so focused when you're in the water you can't really hear them, but before and after it was so good."
Katie Clark said: "We've had a lot to work on since our last competition, but I think we've really stepped up and did really well."
Performing to music from Peter Pan, the team scored 86.640 points in their free programme. That was combined with their technical score for a total of 173.240pts. The competition was won by reigning World and Olympic Champions Russia who scored 195.910 points.
Also at the pool to watch the team compete were Team GB ambassador and Olympic figuring skating gold medalist Robin Cousins and former England footballer David Seaman.
Cousins has been working with the team at the Aldershot Pool and gave the squad a motivational talk on the eve of the competition.
"It's really about ownership," said Cousins.
"It doesn't matter how much training you've done, when the music starts they're the only ones who will have control.
"For some of the younger girls this has been an eye-opening experience and a mind-opening experience. They equipped themselves very well and I'm very proud to be part of their team."
The GB Squad were only centralised in 2007 and over the last five years they have built up a squad of 13, who train 42 hours a week at their base in Aldershot.
Their progress through the world rankings has been overseen by performance director Biz Price. The aim for London this summer is a top-six finish with ambitions for the podium at the Rio Olympics in 2016.
Performance manager Adele Carlsen said: "It normally takes about 10 years to come from nowhere to medal, that's how fast Spain did it.
"So we're a relatively young team, so Rio is looking more like potentially medals for us. But we are being spoken about as one of the fastest-improving teams ever in the world in synchro, so it's really pleasing.
"We might get there a bit earlier, but Rio 2016 is a more realistic target."
Next up is the announcement of the Olympic team, where just eight of the 13 strong squad will get to swim at London 2012.