London 2012: Scrap lifetime drug bans - Jonathan Edwards
Last updated on .From the section Olympics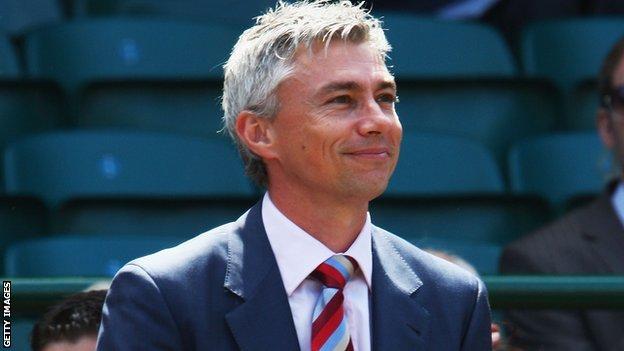 Former Olympic triple jump champion Jonathan Edwards is happy the British Olympic Association's lifetime ban for drug cheats looks set to be overturned.
The BOA expects to lose its legal fight against the World Anti-Doping Association, which says drug-takers should instead receive a two-year ban.
Edwards, who won gold in 2000, said: "Athletes should get a second chance.
"[But] two years is simply not enough. The world needs to unite and introduce four-year bans."
The BOA by-law which bans athletes found guilty of taking drugs from competing at future Olympics has been in place since 1992.
However, Wada has ruled that the BOA's stance is unenforceable, believing athletes should be free to take part in all competitions once their initial suspensions have been served.
The Court of Arbitration for Sport (Cas) heard arguments from both sides at a hearing in London last month and it confirmed in a statement on Monday that the decision will be published next week.
A ruling in favour of Wada would free the likes of sprinter Dwain Chambers and cyclist David Millar, who have both completed doping bans, to compete in the London Olympics.
However, the BOA has been backed by a number of athletes, including Millar's potential team-mate Sir Chris Hoy and Lord Coe.
"I think it's really a bit of a non-issue because Dwain Chambers has been competing for UK Athletics for the last five years and David Millar has been competing with British Cycling for a large number of years," continued Edwards.
"He was team captain when Mark Cavendish won the World Championships so I don't think there is going to be any issue in terms of incorporating these athletics back into the team."