London 2012: Sally Gunnell hopes for vintage year in 400m hurdles
Last updated on .From the section Olympics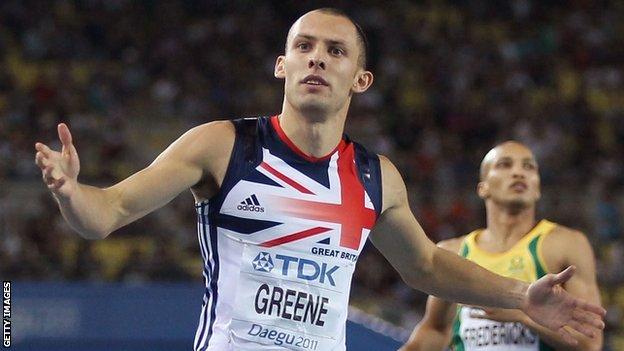 It's 20 years since Sally Gunnell caught the attention of the nation by winning Olympic gold and she hopes the 400m hurdles will be a star attraction once again in London.
With hopes high for Dai Greene and Perri Shakes-Drayton, London could be another Games in which that discipline enraptures the British public.
Welshman Greene is one of the favourites for gold in the men's competition, having already claimed the world, European and Commonwealth titles since 2010, while up-and-coming east Londoner Shakes-Drayton is also being tipped for success after coming to prominence with a bronze at the 2010 European Championships.
With the Olympics coming to British shores, the pair of them have the best possible opportunity to inspire a new generation of hurdlers, exactly two decades on from Gunnell's heroics in Barcelona.
The 1992 gold medallist believes that self-belief will be a key factor in their attempts to succeed.
"With Perri it's about having the confidence, and it's the same with Dai," says Gunnell. "He is coming in with more expectation and pressure. It will be tough but he has a great attitude.
"Perri won't be one of the favourites as such but she's got a great chance. She's got such talent and, if she's in shape, then she won't be far off."
Gunnell knows the mindset required to triumph and thinks Shakes-Drayton is already well-rounded enough to cope.
"She can handle the pressure," says the 1992 GB women's captain. "She's won a European medal and been through the experience of disappointment too, which you have got to go through."
The incentives for succeeding in this Olympics are huge for Greene and Shakes-Drayton, who have both already been labelled as two of the potential 'faces' of the Games this summer.
If one of them does repeat Gunnell's heroics then they can expect their lives to change.
"No-one prepares you for that," says Gunnell. "You don't think about what happens afterwards. Twenty years on, you reflect on it and you realise your life did change when you crossed the line. You appreciate it."
Sandra Falmer-Patrick was the form hurdler ahead of the event in Barcelona two decades ago but Gunnell managed to overcome the odds, winning with three metres to spare by finishing in 53.23 seconds.
"Leading up to it, Sandra had won all the grands prix," Gunnell remembers. "But, in my mind, it was about what happened in August, not June or July. I knew I was a championship runner.
"I was ever so nervous on the day but quietly confident. I was thinking, 'If you don't do it now, you might never get the chance again.' I kept saying to myself that I was in the best shape of my life.
"The feeling when I won is one of the hardest things to explain. You have never experienced that before. There's disbelief, you're on such a high, you're in dreamland. It's the most amazing feeling."
Pre-race positivity was a key factor for Gunnell and she wants to see that same attitude from the current crop of British stars - and the crowd.
"I knew I wasn't one of the favourites but I was still confident," she says. "If you are not confident, you won't win gold.
"The crowd will play an enormous role. It's a situation where, if someone reaches the final, they will have the home support and anything can happen."