London 2012: 'Give Dwain Chambers Olympics chance'

By Gordon Farquhar
BBC sports news & Olympics correspondent
Last updated on .From the section Olympics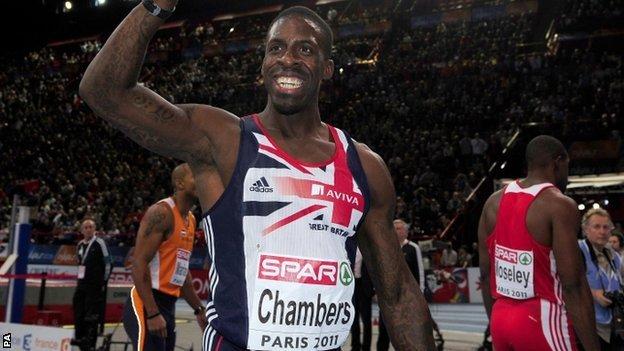 The man whose firm supplied the steroids which caused Dwain Chambers to be banned says the sprinter deserves a second chance.
Victor Conte, who served a prison term following a federal investigation into his designer steroid business, believes Chambers is a reformed man who has been punished enough for his misdemeanours.
"I could not be more proud of Dwain Chambers and the terrific human being he has become," said Conte in an exclusive interview with the BBC.
"He trusted me like a father, and I will be forever remorseful regarding the pain and suffering I caused not only him but his entire family.
"Dwain has rebounded from the serious mistakes he made to become a man of strong moral character."
Conte's San Fransisco Laboratory created the steroid tetrahydrogestrinone - known as THG - which turned up in urine samples given by Chambers in 2003.
The Balco Scandal, named after the Bay Area Laboratory Cooperative which produced the steroids, rocked sport after it was revealed the laboratory tried to tweak THG to make it undetectable to dope tests.
Conte, jailed for four months in 2005 after pleading guilty to money laundering and conspiring to distribute steroids, now works with anti-doping authorities including the World Anti-Doping Agency (Wada).
British sprinter Chambers is waiting for the outcome next week of a case at the Court of Arbitration for Sport (Cas) that will determine whether or not he is able to compete at the London Olympics.
Under the British Olympic Association's by-law he is excluded from competing for Great Britain at future Olympics because of his drug offence.
He was banned for two years for his role in the Balco scandal and has since returned to competition. Although well off the pace of the world's top sprinters, he remains one of Britain's best over 100m.
He is expected to feature in at least the sprint relays in London if the BOA loses its case against the Wada, which says the BOA's by-law goes beyond the sanctions for drugs offences agreed under the Wada code.
Conte says competing at the Olympics "means everything" to Chambers.
He added: "It's become the most important thing in his life.
"I know he goes to lots of schools and talks to lots of kids and he's doing what he can to stop them making the very serious mistakes he did. I think he has walked the talk and earned his opportunity.
"I've known him for a long time, but Dwain has really grown as a person, and he's someone his team mates can trust to be clean for the rest of his time that he competes in sport."
The Balco scandal also involved high-profile United States athletes such as Marion Jones, Tim Montgomery and Kelli White. Conte says he is very sorry for what he did, and claims that since the scandal was exposed there are fewer cheats around.
"I think it has definitely improved. There's a reduction in performance enhancing drug use," continued Conte.
"I believe the Balco scandal revealed a lot to the world about the rampant use of performance enhancing drugs.
"Since then I'm so glad to see athletes like Dwain Chambers who come back and do things the right way.
"I'm sure Dwain has been target tested, but he won a gold medal for his country at the World indoors in 2010 and that is really leading by example."