London 2012: GB ready for Australia at water polo test event
By Nigel Adderley
BBC Sport
Last updated on .From the section Olympics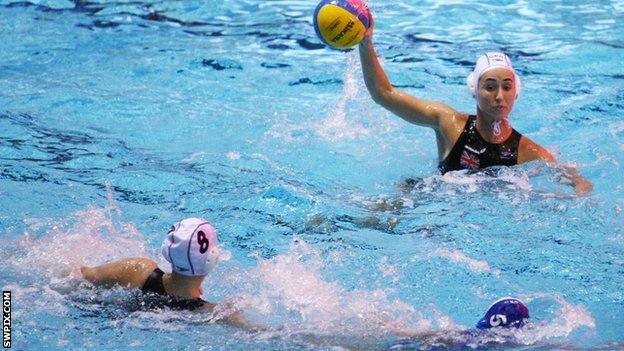 Great Britain and Australia will resume their fierce sporting rivalry in the form of water polo at London's Olympic Park on Thursday.
The two old foes will join women's squads from the USA and Hungary in a four-team test event over four days at the 5,000-seat arena.
Around 4,000 tickets have been sold for each day as water polo makes its Olympic Park debut.
The four teams will play each other before final play-offs on Sunday.
And according to centre-back Frankie Snell, Team GB will not lack motivation for their opening match after their recent test series against the Australians.
"We were all really tired and jet-lagged when we played them in Canberra in January, so want to do what they did to us when we meet them in the Olympic pool," she told BBC Sport.
"One of the team suffered a broken rib in Australia, so we'll all be going for it and try to defend our team-mate that got hurt really badly. Every game we go into we need to come out a little bit tougher, so we'll be giving as good as we get."
Great Britain suffered a 5-0 whitewash during that series and are likely to encounter problems against all three of their test event opponents.
Australia and USA both finished on the podium alongside Olympic champions the Netherlands in Beijing four years ago, while Hungary recently thumped Team GB 19-9 at the European Championships in Eindhoven, but Snell believes it will be important preparation for London 2012.
"These are three of the top sides who are also three of the biggest and strongest physically," said the Auckland-born player.
"We usually don't do as well against this sort of opposition and perform better against the faster and more intelligent European teams, so it's important we get more experience against the physically imposing opposition.
"I play centre-back and have to mark the centre-forwards, who are often the big, strong girls in the team - I'm often in direct competition against an opponent who is at least twice my size. They're often slower than me but it means I have to dig deep when fighting to hold my ground.
"There are a few cheeky tactics I like to use to stop them holding me - a knee in the back is a good one! We get a lot of kicks and punches in the guts and stomach - there is quite a lot going on under the water."
With several thousand spectators expected each day of the test event, Snell admits that the team will have to cope with a level of interest they have not previously experienced in this country.
"I think that's what I'm really looking forward to," she said. "I've never played in front of that many people before and I hope they all get behind us and create the sort of atmosphere which will help us against such top opposition."