London 2012: Hurdler Jehue Gordon set to give his all
By Kevin Bishop
BBC World Olympic Dreams
Last updated on .From the section World Olympic Dreams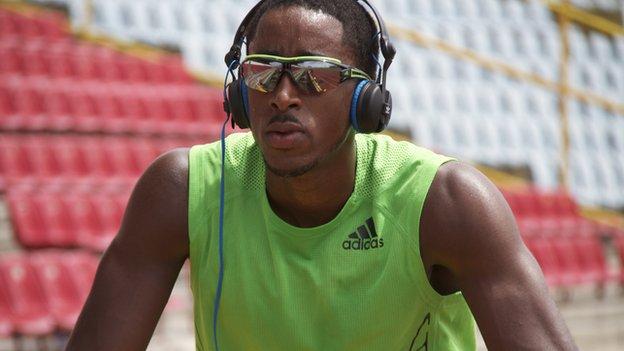 It is Easter Saturday in Port of Spain and the only traffic jams in the normally congested city in Trinidad are on the road north, out of town towards Maracas Beach.
Seeking shade from the hot April sunshine, the shark 'n' bake stalls along the beach parking lot are doing a brisk trade. Soca music blares out from every speaker. The country is in party mode.
But back in the city, it's like any other weekend for one 20-year-old. As the sun begins to beat down on the empty Hasely Crawford Stadium, Jehue Gordon is pulling a trolley around the track. For this rising star of track and field, it's a way of keeping in touch with reality.
Trinidad and Tobago 400 metre hurdler Gordon has achieved the qualifying time for the Olympics and is now set for national selection.
"As you can see for yourself we all had to come out and set out ten hurdles around the track this morning," he says.
"My coach, my family, my club - you know they all keep me grounded because I know where I came from and I know where I am about to go.
"They are always there reminding me: 'hey Jehue just remember where you came from'."
And where he came from is Maraval, a suburb of Port of Spain, where Gordon's house clings precariously to the side of a mountain.
In 2008, just after the Beijing Games which Gordon attended as a teenage observer, a landslide hit the family home.
Gordon was in the living room where the earth came to a halt and admits that at times the experience has made him scared of staying home alone.
He grew up in a family that had to struggle to make ends meet, but with parents who, he now knows, sacrificed a lot to allow him to develop his talent for running.
Now the tables have turned and while his new-found fame is still in its infancy, it has allowed him to pay his parents back for the strong foundation they gave him.
As we arrive, we hear the sound of a grinder cutting iron girders to length. Builders clamber over the new roof that is taking shape.
Gordon is now the main breadwinner of the family, taking careful note of what work needs to be done and checking that the money is being spent according to plan. It is his way of giving something back and it makes him proud.
"Right now I am in a position that I can help my family. Hopefully we can live a better life and everyone can feel more comfortable at home."
But comfort does not win you gold medals and that is what Gordon aspires to do this summer at the London Olympics. Winning is his philosophy in life.
"I think that one of my strengths is my aggressiveness towards everything," he says.
"Everything I do I want to win, understand? I want to be successful and I work hard to get what I want.
"While I was going to school I wasn't the best student athlete but when it was time for exams I wanted to show the bright boys in class that I can be in my 80s and I can be in my 90s also. I want the best."
Local star
His country is pinning their Olympic hopes on him and his generation of young athletes.
In the Royal Botanical Gardens, after a vigorous uphill sprint session, we walked among the Rainbow Eucalyptus and Bootlace trees. A warden chides her colleague for not recognizing him.
"That's Jehue the hurdler," she said. "He's going to bring us home that gold medal."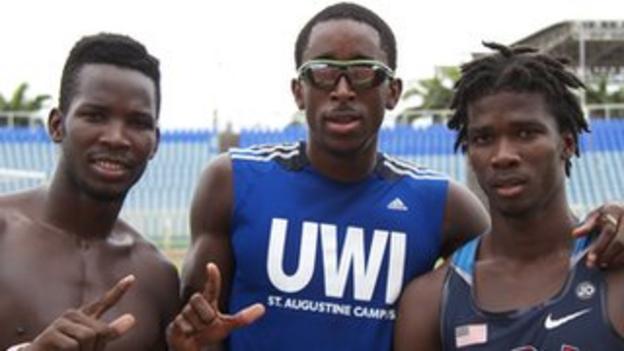 Even two Swiss tourists spot him as a celebrity and swap tales of Diamond League meets in Lausanne. Despite the heat and the energy sapping out of him, he loves the attention.
"It makes me feel really special that people look up to me like a hero," he says.
"God gave me this talent and I'm just showcasing it this way. I've been out there in England and everybody is supporting me and they're so excited: 'Jehue is a superstar', and all that.
"You understand it feels nice to be appreciated, not just being a normal student at the school. For me it just blows my mind out of this world."
I first met Gordon two years ago. Then he was a teenager just out of high school with big ambitions; confident but still feeling his way in the world.
Now with two years as a professional athlete under his belt, he is close to stepping out on to that Olympic stage.
He is more self-assured, more aware of his position as an athlete. In his sports studies at the University of the West Indies he is learning about image rights and what to expect from an agent.
Much like with the builders at home, he is not going to be taken for a ride by anyone.
On the track at Hasely Crawford - named after the only man so far to bring home an Olympic Gold medal for Trinidad - Gordon is in his warm-up zone. It is a mental rather than a physical place.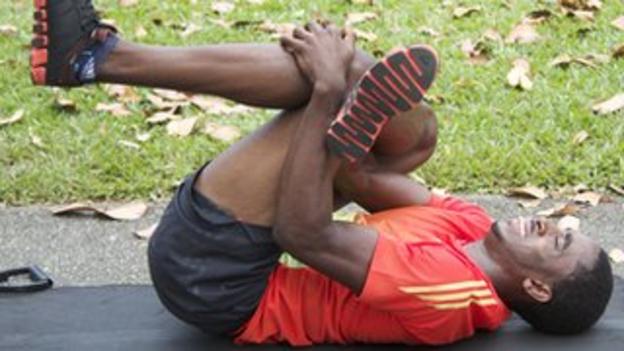 Headphones clamped to his head - he smiles hello but tries to blot out the cameras. I ask him what he thinks about while he is preparing for a race.
"For me I try to see myself in a dark place seeking the light, you understand that?
"That's how I envision myself going through, doing my run-throughs, trying to bring out the thoughts from inside me."
He clocks 49 seconds in the time trial and comes away beaming.
Next stop - the usual season circuit of Diamond League and Caribbean meets. Then on 3 August at 10am in Stratford - the moment of truth.
A mock-up poster on his bedroom wall has already crowned him champion. Reading it every day inspires him.
"It's going to be really interesting," he says when I ask what the world can expect from Jehue Gordon this summer.
"The world is going to see something that they never saw before. At this point in time I am feeling really motivated, I'm working really hard with my coach and my training partners and I'm really going out there to give it my best shot.
"I know I'm just 20 and it may be my peak age group coming later on but I'm just really going to give it out. I'm going to release my body and once I release my body we are all going to see something different and spectacular."