London 2012: GB water polo ready for moment in spotlight
By Nigel Adderley
BBC Sport
Last updated on .From the section Olympics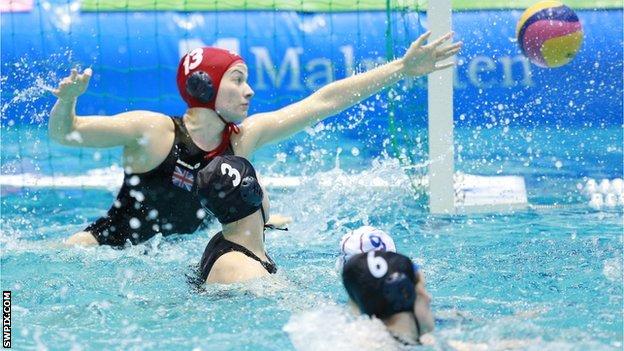 The thought of watching water polo was probably not uppermost in many minds when IOC President Jacques Rogge tore open that envelope in Singapore seven years ago.
All the same, nearly 20,000 people will visit the Olympic Park this weekend to give Great Britain's players a rare outing into the limelight.
The temporary 5,000-seat water polo area, with its inflatable plastic roof, nestles alongside the aquatics centre and has been virtually sold out for a four-team test event in which Britain's women's squad will face Australia, Hungary and United States.
"It will be a completely different experience to what we've had before," goalkeeper Rosie Morris told BBC Sport.
"At the home games we have at the Manchester Aquatics Centre - we have a couple of hundred people watching; I can't imagine what it will be like having 4-5,000 all supporting us.
"Having the home crowd behind us will be huge - we saw against Netherlands at the European Championship in January how much a great atmosphere affected the host nation and the referees.
"We were let down by a few decisions in that game so it would be nice to have that sort of luck on our side. The majority of the British public don't know our sport, so this is our chance to really showcase it and create some sort of legacy."
Great Britain have not competed at the Olympics since 1956 and are not expected to make much of an impact on their return.
The sport had to cope with a huge cut in funding from UK Sport in 2009 but captain Fran Leighton says the personal sacrifices the squad have made will be worth it if the Olympics prompts an increase in interest and participation.
"Even if only a hundred people choose to join in after watching, then there's the legacy for us," she said.
"When people ring up and ask a leisure centre if there's the chance to play water polo, I don't want the response to be, 'What is it?' If we can build a strong base for the sport now, who knows what we could do beyond this Olympics and even 2016?"
Recent form and history suggests those watching water polo for the first time at the test event might see Team GB struggle to make home advantage count.
Hungary beat them 19-9 on the way to a bronze medal at the recent Euros in the Netherlands, The US have never been off the podium in the three previous Games that have included women's water polo, while Australia steamrollered Britain 5-0 in a test series at their Institute of Sport in January.
Undaunted, Leighton believes her team need to face such illustrious opposition.
"It will be tough but this is where we need to be now if we want to do well at the Olympics. No game is going to be easy so, even if the results go against us in the test event, trying out our tactics against the top sides will be a good thing."