London 2012: UK weather 'may hamper Usain Bolt record bid'
Last updated on .From the section Olympics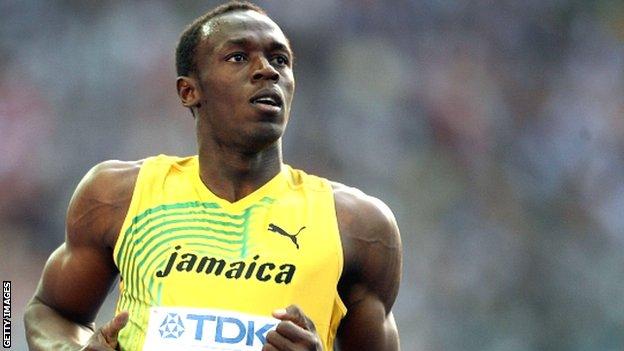 Usain Bolt's hopes of breaking his own 100m world record at the London Olympics may be hampered by the British weather, says his coach Glen Mills.
"I'm not sure if London will be kind in terms of temperature," said Mills.
"Given the right conditions, it's possible," he admitted, but added "the world record would be a bonus".
Mills suggested Bolt's main focus would be retaining his 100m, 200m and 4x100m relay titles.
The coach said Bolt would not attempt to go one better than Beijing and attempt to win gold in the 4x400m relay as well.
"The Olympic programme, as set out, does not really allow him to do it. He would love to do it because he runs great relay legs," said Mills.
The opening round of the 4x400m on 9 August takes place on the same day as the 200m final.
The final of the 4x400m and the first round of the 4x100m will be run on the following day.
Meanwhile, Mills, who also coaches world 100m champion Yohan Blake, insists he would have no problem with the likes of Dwain Chambers competing against his athletes at the Olympics.
Chambers tested positive for a banned substance in 2003 and was barred from representing Team GB at the Olympics.
But he could compete in London if the BOA loses its legal fight against the World Anti-Doping Agency over its unilateral liftime Olympic ban for athletes caught doping.
"So long as it is not against the rules," Mills added. "I have no problem with the rules as long as the rules are across the board for everybody.
"If you are caught and suspended for whatever period, the sport allows you to return to competition and those are the rules under which the competition is conducted.
"One would hope that the person who has found themselves in trouble with that aspect would have learned their lesson and come back to the sport to operate under the fairness of competition and to stay away from drugs.
"I do not believe in life sentences. I don't believe that somebody should be sentenced to death or banned for life.
"You should be given an opportunity to redeem yourself, and as long as the sport allows that I have no problem with it."