Colin Jackson backs Dwain Chambers for London 2012
Last updated on .From the section Olympics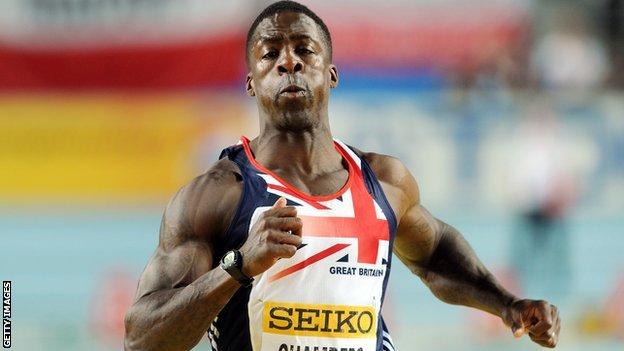 BBC pundit and former athlete Colin Jackson says he has "no doubt" that Dwain Chambers will now be part of the British Olympic team in London.
"Dwain is in the top tier of sprinters in our country," he told BBC Sport.
"There is no doubt that he will be at the Olympics."
Jackson added: "Fans are used to him being in the team so already he has been accepted and it has no relevance to the other athletes."
Chambers, who was part of the British team that won relay gold in the 2006 European Championships, has been the fastest Briton over 100m each year since 2008 and his fastest time of 9.97 (set in 1999) is the second-fastest ever recorded by a Briton, behind Linford Christie.
He won bronze over 60m at this year's World Indoor Championships and competed in the 100m at last year's World Championships in Daegu, before being disqualified for a false start in the semi-finals. He was not part of the relay squad.
Not everybody thinks Chambers will be so readily accepted though.
Double Olympic gold-medallist James Cracknell believes Chambers will find it difficult to gain the respect of his fellow athletes in London.
Cracknell said he would have "no desire to talk" to Chambers, adding: "I have no respect for him on any level."
"Especially as he was cheating and he still didn't win. He made the decision to cheat, therefore there is not going to be a level of respect from someone who hasn't."
Cracknell, who won rowing gold at the Sydney Games in 2000 and Athens in 2004, added: "From a personal point of view, when Dwain Chambers tested positive he, as most cheats do, said 'I didn't take anything, it was my supplements'.
"It turns out Dwain was busy injecting himself with all sorts of stuff. It wasn't his supplements. He affected the performances of other people. He lost his team-mates relay medals. He cheated his opposition."
Former 800m Commonwealth gold-medallist Diane Modahl, who was banned in 1994 after being accused of taking testosterone before being cleared a year later, echoed Cracknell's sentiments.
She said: "I think they [the athletes cleared to compete] will find it incredibly difficult with fellow athletes, but I think a lot of the fans are philosophical. Many will say if you have served your ban, then you should be able to compete."
However Modahl is against athletes being expelled from the Olympics for life because it offers "no remedy" for athletes wrongly accused of doping offences.
"I think Wada need to get tougher on their penalties," she added. "Two years is not a deterrent, it's nothing. The bans need to be more stringent. There is talk of a four-year ban and missing an Olympics - I would agree with that.
"But for those in my situation, where an athlete has been falsely accused, to have a lifetime Olympic ban runs into the situation of no remedy because there's a blind faith science will get the result."
Meanwhile, British sprinter Tyrone Edgar has welcomed the possibility of Chambers running at this year's Olympics.
Edgar was part of the relay squad at the 2008 Olympics and the 2009 World Championships, where they won bronze.
"Good news we can now have D. Chambers in our 4x100m for Olympic Games," he said on Twitter. "We need all our big guns running if we gonna win a medal in London.
But former 400m runner Roger Black, who was against the overturning of the lifetime ban, told the BBC: "It's a sad day. It's hard to cheer someone on who's purposefully tried to cheat other athletes. I'm not going to boo him, I'm just going to be indifferent."
He added: "I like Dwain. I think he's remorseful, but it's easy to be remorseful when you're caught out. He didn't have to do it in the first place, because most of us didn't."