William Fox-Pitt wins Kentucky prize
Last updated on .From the section Olympics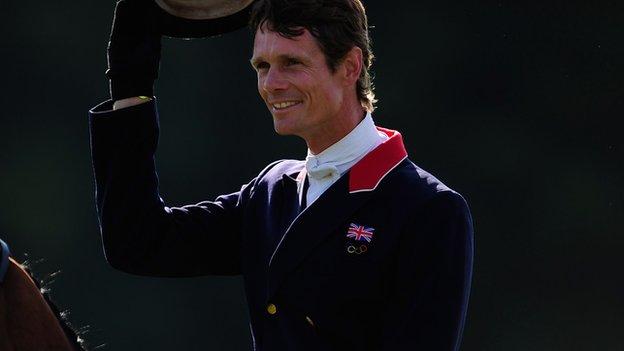 British star William Fox-Pitt claimed victory in Kentucky to move closer to the top prize in world eventing.
The 43-year-old triumphed on board his 2011 Burghley champion Parklane Hawk after a tense showjumping finale.
It was the Dorset-based rider's second Kentucky triumph in three years, and he is also now firmly on course to land the £220,000 Grand Slam.
Victory at next weekend's Badminton trials would see him complete the prestigious feat.
Only Britain's Pippa Funnell back in 2003 has won the Grand Slam by claiming consecutive Burghley, Kentucky and Badminton victories in any order.
Fox-Pitt put in a strong cross-country round to lead Allison Springer and Arthur going into Sunday's final showjumping phase.
The American combination, who went out second-last, had four faults so Fox-Pitt enjoyed the luxury of one fence in hand.
Parklane Hawk had the first part of a double down halfway around the showjumping course, but Fox-Pitt held his nerve amid intense pressure and the combination never looked back after that.
"It was a huge relief," the three-time Olympian admitted afterwards.
"The pressure was on us when we hit the fence, but I thought to myself not to panic. He is a super jumper and a fabulous horse to ride.
"Parklane Hawk has only done one four-star before, and he has shown how good he is in all three disciplines, although there is room for improvement in the dressage."
Springer finished 1.7 penalties behind, with another American - Boyd Martin - third on Otis Barbotiere.
Fox-Pitt is set to spearhead Britain's Olympic medal bid at Greenwich Park in late July, with Parklane Hawk now a strong contender, although his performances on Lionheart and Oslo at Chatsworth next month will be closely monitored.