GB rowers set for first World Cup of the season in Belgrade
Last updated on .From the section Olympics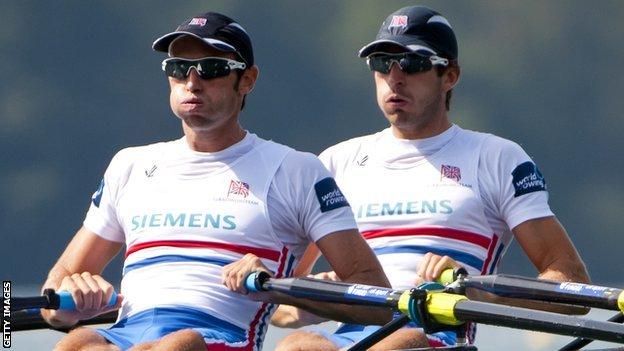 Great Britain's rowers will begin in earnest their quest for an Olympic medal when the first World Cup of the season gets under way on Friday.
Belgrade hosts the first of three World Cups which offer the only chances of competitive racing before London 2012.
"Belgrade is a really good marker for us," said Zac Purchase, who partners Mark Hunter in the lightweight double.
"We've been training hard but we have to wait until we start racing to see if it has paid off."
Britain are sending a 57-strong team, made up of 23 women and 34 men, to Belgrade for the three-day regatta.
Earlier this month, chief coaches Jurgen Grobler (men) and Paul Thompson (women and lightweights) revealed the make-up of the British boats for the World Cup season.
Barring injury or loss of form the squad is likely to remain unchanged for the Olympics, meaning strong performances in Serbia and then in Switzerland and Germany thereafter will be key.
Britain's flagship boat - the men's coxless four - will take on a new look with Pete Reed, Andy Triggs Hodge, Tom James and Alex Gregory racing together for the first time internationally in Serbia.
Reed and Triggs Hodge, who have raced as a pair for the last three years, won Olympic gold in the four alongside James in 2008, while Gregory won gold in the boat at the World Championships last year.
"It will take some time to get used to the four," said Triggs Hodge. "We've got to make sure we're adapting and getting the best out of the boat.
"Getting that right is going to be a challenge but I don't think the change will hold us back for the Olympics. It's going to be a fantastic run-in.
"The World Cup regattas are stepping stones, but very significant. We do these regattas every year so it's nothing different, but this year the prize at the end is going to be the big one."
The men's eight will also take on a different complexion with world champions Ric Egington and Matt Langridge moving over from the four.
Rising star Constantine Louloudis was set to make his debut in the boat at stroke, but he has been withdrawn as a precaution. GB Rowing's performance director David Tanner said: "He has a slight back injury and will be fine for the next one." Louloudis will be replaced by Nathaniel Reilly O'Donnell.
The crew also features Alex Partridge, Moe Sbihi, Tom Ransley, James Foad and 1992 Olympic champion Greg Searle.
World bronze medallist Alan Campbell will race in the single scull but team-mate Tom Solesbury, who was due to race a second single, has withdrawn through illness.
Meanwhile, Hunter and Purchase, who have struggled with illness and injury over the past year but look to be back to full fitness, will contest the lightweight men's double.
"It is exciting to be back in the double full time," said Hunter. "We will just use the World Cup season as a platform to build up to the Games.
"The World Cup season is about seeing where you are and what you've got to improve on, so you are totally informed in what you need to do. It's about continual improvement."
Katherine Grainger, who is targeting gold at the Olympics after three successive silvers, will look to continue her two-year unbeaten run with Anna Watkins in the women's double sculls.
World silver medallist Helen Glover and Heather Stanning will team up in the women's pair and are looking forward to comparing themselves to the world's best in Belgrade.
"We've had national trials and they were tough because the women's team is at such a high standard," said Stanning. "But now we've got to do it against people who aren't in our team and we don't know what their race plans are."
Away from the racing, Olympic champion cox Rowley Douglas is waiting to hear the result of Tuesday's appeal against GB Rowing's selection process. Douglas and Beijing silver medallist Acer Nethercott were aiming to replace current cox Phelan Hill.