London 2012: Olympic test event 'may decide GB team'
By Ollie Williams
BBC Olympic sports reporter
Last updated on .From the section Olympics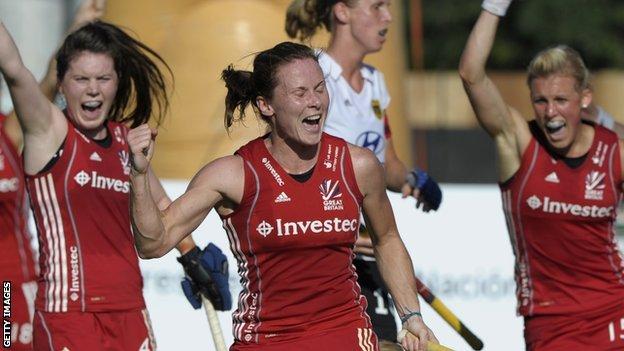 Places in the British hockey squad for London 2012 could rest on who looks good at this week's Olympic test event, GB's women's coach has told BBC Sport.
Britain's men and women take on six other leading hockey nations from 2 to 6 May inside the Olympic Park.
A squad of almost 30 players per gender will be whittled down to 16 men and 16 women plus four reserves later in May.
"We have genuine competition for places and if you show good form, it could come down to that," said Danny Kerry.
"That's testimony to the strength in depth we've generated in the squad, but I'd caveat by saying we have an awful lot of experience and training going into it, and that will be the fundamental decider."
Most nations will use the five-day test event to experiment with line-ups, tactics and set pieces ahead of this summer's Olympics.
Britain's men, ranked fourth in the world, face a tough pool in the shape of world number one Australia, Olympic champions Germany and India.
The women, also fourth in the world, play Argentina - who beat Britain in the final of this year's Champions Trophy, the first major international final GB's women have contested - as well as China and South Korea.
"The test event will have a bit of tactical cat-and-mouse," said GB women's captain Kate Walsh.
"China, in the lead-up to the Olympics, change their squad a lot and don't get the results they should, then come to the Games and do well. It'll be good to see them this close, see where they are and what tactics they show or don't show.
"It'll be good to get out there onto the pitch with a full crowd, get that feeling and play some internationals against top opposition. Our fitness is our key component, and that will certainly be on show."
Kerry added: "Our two priorities are having a subtle look at some combinations [of players] and the other thing is to get the match play. And in terms of the home crowd and experiencing that, having seen what the track cycling test event was like, I think that will be critical.
"If we get those three things out of that test event, it's good. It doesn't make or break our preparation - the media will be interested in the results - but it's smoke and mirrors for us, we won't be overly worried about the results."
Mark Pearn, a veteran of the GB men's team at the Sydney and Athens Olympics, is again in the reckoning for the London 2012 squad.
"Out of the 27 guys, any of the 16 would do GB proud," he told BBC Sport.
"I genuinely believe that, it's a really, really strong squad. I'm coming into the Olympics 10 times more confident than I've ever been before."
Britain's men finished fifth at Beijing 2008, with the women sixth.
Each of the teams has one more top-class tournament remaining after the Olympic test event: the men fly to Malaysia for the Sultan Azlan Shah Cup in late May, while the women host the London Cup in early June.