London 2012: GB women win first game on Olympic pitch
By Ollie Williams
BBC Sport at the London Olympic Park
Last updated on .From the section Olympics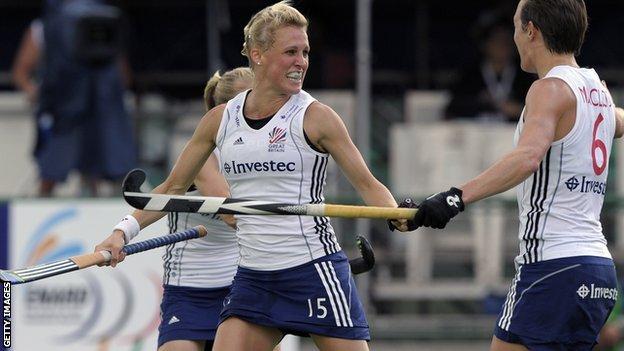 Great Britain's women won their first competitive match on the London 2012 Olympic hockey pitch, beating South Korea 1-0 at their Olympic test event.
Alex Danson separated the teams with a reverse-stick strike eight minutes from time in an otherwise unremarkable encounter on the Riverbank Arena pitch.
"It doesn't matter who scores the goal, it's incredible to get our first win here," Danson told BBC Sport.
Britain's men later suffered a 3-1 defeat at Germany's hands in the rain.
Florian Fuchs stunned the British team by scoring while some of the hosts' players were still returning to the pitch for the second half, before Christopher Zeller's set-piece goal and Moritz Fuerste's penalty stroke.
Ashley Jackson pulled a late goal back, also from a penalty stroke.
This test event is the first tournament on London 2012's striking pink-and-blue surface, and sees four teams per gender taking part over five days.
The arena operated at a reduced capacity on Wednesday as part of the test event's licence, with just one of the four stands opened, but will steadily increase to hold 12,000 spectators for the weekend's matches.
GB's women, ranked fourth in the world alongside the men, initially fought a rearguard action against world number eight Korea, who were denied by goalkeeper Beth Storry from a succession of penalty corners.
Britain came back into the game and, after a goalless first half, Danson finally found a way past Korean goalkeeper Moon Younghui, who should have done better.
Han Hyelyoung wasted Korea's best chance when she dragged her shot wide having split the hosts' defence midway through the second half.
Despite the Danson goal following tactical changes mid-game, Danny Kerry's GB side offered disappointingly little attacking threat, though Kerry has cautioned that results from this tournament are "smoke and mirrors" as sides experiment in the run-up to the Olympics.
"We know we can play a lot better but it's brilliant to get out there, get the first game in our legs and start building the positivity and the momentum towards the Olympics," said British captain Kate Walsh.
Walsh won her 100th GB cap on Wednesday, while goalscorer Danson earned her 50th.
"We were blown away today. It was a 4,000 crowd and so noisy," said Danson. "Hopefully it'll take this entire squad a long way towards that goal in London.
"This is almost our first real step in this stadium towards London and we can still make some big gains."
Korea and Britain are expected to meet in the same pool at London 2012 when the final draw for the Olympic group stage is confirmed by world governing body.
In the other women's group game, Argentina defeated China 3-0. China and GB meet on Thursday, with Argentina playing Britain in a rematch of February's Champions Trophy final (won by Argentina) on Saturday.