London 2012: GB pentathletes face Worlds test - Stephanie Cook
By Lawrence Barretto
BBC Sport
Last updated on .From the section Olympics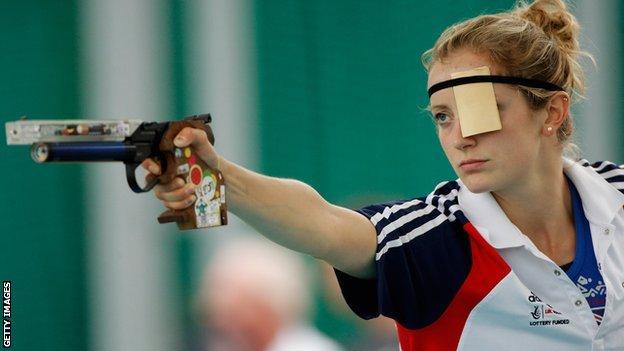 Britain's modern pentathletes face the biggest test of their careers when they compete for a place at their home Olympics in this week's World Championships in Rome, according to Sydney gold medallist Stephanie Cook.
For each nation, there are a maximum of two spots for men and two for women available in London 2012, with crucial ranking points on offer in Italy.
Cook said: "It'll be interesting to see how athletes cope with the pressure.
"For many athletes, the pressure of the World Championships in terms of expectations and qualifying is greater than actually competing at the Olympic Games because of the level of competition just to qualify."
Pentathletes must achieve the Olympic qualifying standard, something Jamie Cooke and Freyja Prentice have already done, simply to be considered for a place.
Any British athlete who wins an individual medal at the World Championships, which start on Monday, will achieve the standard. Failing to do so means they must rely on their world ranking, although the precise details of this method of qualification will not become clear until later this year.
World ranking points are available in Rome and at the World Cup final in Chengdu on 26-27 May before the final ranking list is published on 1 June. A final decision on places will be made soon after.
Britain, who have won four of the nine medals awarded in the women's competition since it was added to the Olympics schedule in 2000, have four female athletes - Heather Fell, Samantha Murray, Prentice, Mhairi Spence - all in the world's top 20 and battling for those two spots in London.
On the men's side, three men are fighting it out - Nick Woodbridge, Cooke and Sam Weale.
"If any of the athletes get a podium finish, that as good as guarantees them a spot in London," added Cook, who became British first Olympic gold medallist in modern pentathlon when she triumphed in Sydney.
"Beyond that, there's still the competition in Chengdu. Realistically, the men will all go out to Chengdu in order to chase ranking points.
"For the girls, it's going to come down to what happens in Rome as to who needs to chase ranking points and who can afford to miss that competition and start focusing on London."
Fell, the Beijing silver medallist, is the most experienced of the four women going to Rome, but Murray has been the most consistent so far this season, topping the World Cup point charts.
"I've been hugely impressed by Murray in the last two World Cups in particular," said Cook. "She has taken the international stage by storm.
"She has shown she has the maturity to cope with very different situations from running her way up the field to finish fourth in Hungary to maintaining a podium spot in Russia earlier this year.
"Spence is ranked fifth and performing consistently while Fell is a big occasion performer so it wouldn't surprise me if she pulls something out of the bag on the day in Rome. Prentice's winter training has suffered a little bit through illness but she's certainly getting back to top form."
"In terms of the men, Woodbridge is ranked highest at the moment. He has been putting in some really consistent performances this year and has the potential to deliver at the World Championships and the Games."
This season has been one of the most open in years with different winners in both men's and women's competitions at each of the four World Cups this season.
"When it comes to those top places, it very much comes down to what happens on the day. It shows there's a lot of very good people who can pull a result out on the day. It's very open."