Dwain Chambers to face Usain Bolt in Czech Republic meeting

By Mike Costello
BBC Sport athletics correspondent
Last updated on .From the section Olympics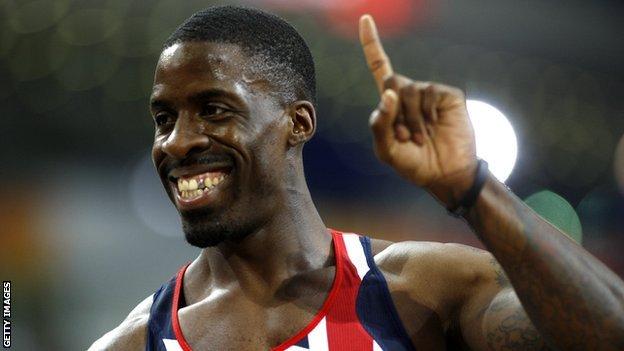 Dwain Chambers will face Olympic champion and world record holder Usain Bolt over 100m at a Golden Spike meeting in Ostrava later this month.
The race in the Czech Republic on 25 May will be the Briton's first at such a significant athletics event for six years.
Earlier this week, Chambers was granted eligibility to compete at the Olympics after the British Olympic Association's lifetime ban for drugs cheats was ruled non-compliant.
"I can confirm that Dwain Chambers has been invited to the Golden Spike event," said Alfons Juck, the meeting manager for the event.
Juck added that he wanted to wait until the Court of Arbitration for Sport (Cas) had made its ruling on the BOA's lifetime ban before making an announcement.
"At the start of the year, his agent and lawyer approached all the meetings, including Ostrava," said Juck. "I wanted to see how it would end with the Cas situation, with the BOA and so on.
"But it had nothing to do with the decision over whether Dwain would run in Ostrava or not. We just waited because we thought from a PR point of view it would be more wise to wait, then put it into the right perspective."
The 100m in Ostrava will also feature American Darvis Patton, Lerone Clarke of Jamaica and Zimbabwe's Ngonidzashe Makusha, who have all run under 10 seconds.
Britain's Harry Aikines-Aryeetey has also been invited to compete.
Chambers, banned for two years after testing positive for the drug THG in 2003, has been absent from the biggest meetings in Europe after promoters decided to ban drug cheats.
His legal representative, Siza Agha, suggests there could be more opportunities for the sprinter in the run-up to London 2012.
"It's a case now of seeing how things develop over the next two or three weeks," said Agha.
"There are a lot of discussions going on, with a number of people, not just inside the sport but also outside the sport and it's important to let those discussions take their full course and then we can assess it.
"It's all very positive - and it's no less than Dwain deserves."
Gail Emms said it was time to support Chambers.
"Dwain is a lovely guy and has done a lot for anti-doping," the 2004 Olympic badminton silver medalist told BBC Radio 5 live. "He's done his time, the ban has been overturned so let's support him."