GB's Lutalo Muhammad claims Euro Taekwondo gold
By Nick Hope
BBC Olympic sports reporter at Sportcity, Manchester
Last updated on .From the section Olympics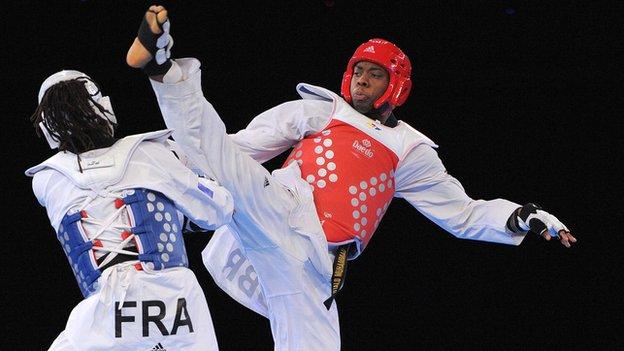 Lutalo Muhammad has landed Great Britain's first gold of the European Championships in Manchester.
His 13-2 defeat of Frenchman Augustin Bata in the -87kg now puts pressure on defending champion Aaron Cook, who competes on Saturday and is expected to take the -80kg place for London 2012.
"I'm over the moon, I'm elated," Muhammad told BBC Sport.
"It was a great victory, but having my coach, family and all of the GB fans out there made it that much sweeter."
The 20-year-old from London defeated Cook at the German Open in March and should now at least be the lead contender the -80kg division reserve position for this summer's Olympics.
"I can only do my job, which is perform well on the mat.
"I think I've done my job well today but I'm not on the selection panel and I'll have to leave that to them," said a diplomatic Muhammad.
En-route to becoming a European gold medallist the GB fighter defeated Spain's two-time European Champion Jon Garcia Aguado and came back from 10-1 down to take the quarter-final in sudden-death.
"It was a bit different moving up to this division and most notably the guys are a lot bigger but like I said I had a good plan with my coach and we executed it so brilliantly," he said.
Muhammad - who dedicated the win to his father Wayne - won GB's second medal of the championships, following Amin Badr's -54kg bronze on Thursday.
Two years ago at the European Championships in Russia, Great Britain finished fifth in the medal table, with two gold and two bronze medals - and the British team are aiming to beat that tally on home soil.