Rowing World Cup: Great Britain enjoy semi-final and medal wins
Last updated on .From the section Olympics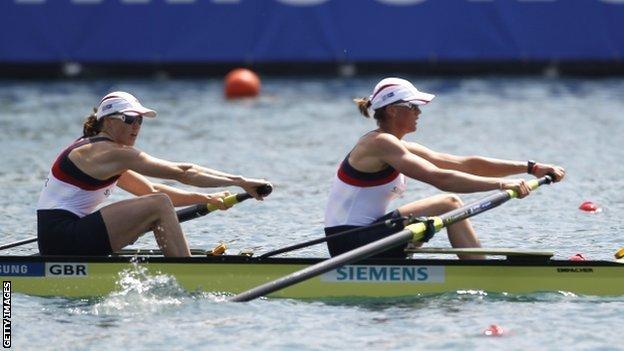 Great Britain's rowers won a pair of medals and four semi-finals as they continued to excel on the second day at the Rowing World Cup in Serbia.
Britain have now qualified boats for 12 out of 14 finals ahead of the regatta's Sunday finale in Belgrade.
Olympic champions Zac Purchase and Mark Hunter will be amongst the finalists after victory in their lightweight double scull semi-final.
Helen Glover and Heather Stanning also won their last-four tie in the pairs.
There were also semi-final victories for George Nash and Will Satch in the pairs and Andrew Triggs Hodge, Tom James, Pete Reed and Alex Gregory in the fours.
Sam Townsend and Bill Lucas made the double scull final despite finishing second to Germany, while Alan Campbell progressed by taking third in the open-weight single scull.
"I'm very, very pleased with today's semi-finals. We've come here to learn how we have emerged from the winter, and as the start of our Olympic campaign rather than as the fully-ready Olympic team," said David Tanner, GB Rowing Team Performance Director.
In the non-Olympic classes, Kathryn Twyman took silver in the lightweight single scull, and Paul Mattick and Adam Freeman-Pask won gold in the lightweight pair.